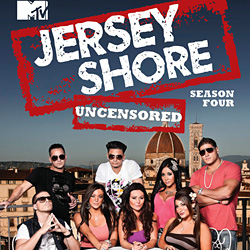 Italy will never be the same!
Washington, DC (PRWEB) December 16, 2011
RealityAired.com announces the season 4 DVD set giveaway of MTVs' extremely popular show, "Jersey Shore". One 4-disc set will be given to a lucky RealityAired.com follower. RealityAired.com covered "Jersey Shore" throughout the entire Season 4 season and provided up-to-the minute news, photos and episode recaps on the show and its cast.
Readers, who enjoy the fist pumping, guido/guidette action, can have a chance to have exclusive footage that was not readily available for prime time. All 12 uncensored episodes from Season 4 are filled with drama, fist pumpin' and GTL. . The four-disc DVD set is packed with must-see bonus features including deleted scenes, confessionals, "After Hours" specials, the "Reunion Special" and more.
In order to enter for the giveaway readers can visit RealityAired.com's official Facebook page to enter the sweepstakes. One lucky Facebook follower will be chosen at random and will be announced as the winner on RealityAired.com's Facebook page.
About RealityAired.com
RealityAired.com has up to the minute information (24/7), news, photos, videos and recaps on some of the most popular reality TV shows on air today. From the Mob Wives, Teen Mom 2 to The Real Housewives, RealityAired.com covers everything that is need- to- know for reality TV viewers and addicts alike.
About Valdez Media
Valdez Media, Inc. was founded in early 2011. Valdez Media aims to create a network of entertainment avenues for a variety of audiences that cover television, film, sports, music and fashion. Valdez Media, Inc. is based out of the Washington D.C. metropolitan area.
###