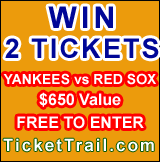 Orange, CT (PRWEB) September 13, 2011
TicketTrail.com is giving one winner 2 tickets to the last regular season game between the New York Yankees and the Boston Red Sox. Each tickets retail value is $325. New York Yankees Tickets and Boston Red Sox Tickets are very hard to get and expensive and this is why TicketTrail.com is giving one lucky winner these tickets to have a great time and see a 2 of the best in baseball go at it and see who comes out on top of their division.
To enter the sweepstakes, simply go to TicketTrail.com Sweepstakes page and provide some information. That is all it takes to enter and there is no purchase necessary. Ticket Trail also has a Facebook page and Twitter account if the person would like to enter that way. Just search for TicketTrail on the website to find them right away.
For more detailed information, read below.
Prize Details: This is for 2 tickets with a total value of $650 for the last game of the regular season between the New York Yankees and the Boston Red Sox. The seats that are being giving away are between home plate and 3rd base and the seat location is Section 122, Row 30, Seats 12 – 13. They are the last row in that section.
Prize Eligibility: Only persons residing in United States who are at least 18 years of age can enter.
Sweepstakes Starts: September 01, 2011 @ 09:00 am (EDT)
Sweepstakes Ends: September 15, 2011 @ 11:59 pm (EDT)
To get more than one entry into the sweepstakes all the person has to do is invite their friends and get an extra entry for every friend who enters.
###