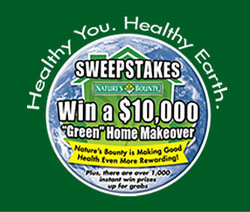 Ronkonkoma, NY (PRWEB) January 19, 2009
Environmentally conscious nutritional supplement maker Nature's Bounty is once again putting its support behind protecting the environment with their new Healthy You, Healthy Earth Sweepstakes. This sweepstakes, designed to raise the awareness of "green" living, offers a grand prize of a $10,000 "green" home makeover for one fortunate winner, along with over 1,000 other instant-win prizes.
"The Healthy You, Healthy Earth Sweepstakes is part of Nature's Bounty's on-going commitment to being a good steward of our planet," according to Kimberly O'Connell, Marketing Director for Nature's Bounty. As a maker of vitamins, minerals and other nutritional supplements, Nature's Bounty utilizes only the most environmentally friendly sources and processes to provide health conscious people with top-quality products, manufactured, packaged and shipped in ways that promote the well-being of both the consumer and the earth.
In addition to the $10,000 Grand Prize of a "Green" Home Makeover, other winners will receive a Nintendo® Wii Fit®, Nature's Bounty recycled fiber tote bag, and gift certificates up to $100 in value. Additionally, Nature's Bounty has partnered with Health Magazine to help educate people on living a healthy lifestyle by offering 3 free introductory issues of Health Magazine with a regular subscription.
When it comes to raising awareness about the needs of our environment, the Nature's Bounty Healthy You, Healthy Earth Sweepstakes makes everyone feel like a winner!
To learn more about Nature's Bounty's Healthy You, Healthy Earth sweepstakes, and the rules for this contest, go to http://www.naturesbounty.com/win.
# # #