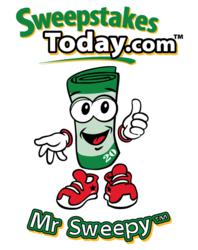 (PRWEB) August 12, 2012
Sherrie DeWeerdt of Rochester MN became a 10K Member at (SweepstakesToday.com) when she won the Cost Plus World Market's Red, White and Blue in London (Sweepstakes). She and her daughter, who graduated from high school in June, have just returned from her all expense paid trips to the summer Olympics there it was reported today.
"My first (reaction) was total disbelief." When DeWeerdt realized the call informing her of her win, her mood quickly shifted to "euphoric!"
This prize was valued at about $35,000, bringing her total wins through the popular online sweeping site to around $40,000, DeWeerdt explained.
DeWeerdt started entering sweepstakes some ten years ago, she reminisced. "I don't remember when I found SweepstakesToday.com!" she added.
Asked if she were addicted to sweeping she smiled and said "yes! It's the thrill of winning" she likes best.
Small wonder. "I've had 4 major wins," DeWeerdt continued. "The first was in 2004. Didn't believe it at first – I literally yelled at the computer that it must have been a hoax. (That win) was a trip to Los Angeles, a $2500 gift card to Virgin Megastores, and a 'Will & Grace' CD sponsored by TV Guide Magazine."
Her second big win in October of 2009 was a Samsung refrigerator.
She almost missed her third win. Notification of her trip for two to Pro Bowl, held that year in Miami, was emailed to her. "I learned I need to go through my (sweeping) email account (more often) she said.
DeWeerdt's wins aren't always the big ones. She's won cash which she mostly uses to pay bills. She also gives away some small prizes and auctions off others through eBay she reported.
The homemaker has lived in Rochester where in addition to playing sweepstakes she also volunteers for the Girl Scouts.
Sweepstakes Today LLC was launched online in March of 2004. The popular (sweepstakes and contest) site is based in Tulsa, Oklahoma and the custom Microsoft ASP/ASPX programming development is done in Salt Lake City, Utah. The website has now published over 36,000 sweepstakes, contest and giveaways. 241 members currently are in the $10K Club having won over $10,000 in cash or prizes.