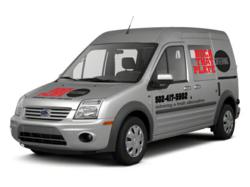 (PRWEB) June 12, 2012
Andrea Riegling of Louisville KY had barely gotten her "Rock That Plate Café" open when she won the grand prize in the Ford Motor Co's Transit Connect Sweepstakes with her entry made at SweepstakesToday.com (http://www.SweepstakesToday.com).
"It was surreal." Riegling said in an interview today. "I'd just opened my restaurant … My (old) truck was literally a liability. I had no windshield wipers, no gas gauge, no speedometer, no a/c, amongst a thousand other problems."
Like many small business owners she struggled with the need to replace the truck and to continue to put her money into her rapidly growing restaurant.
"I was that person that Ford was looking for," she explained. "I knew the Ford Transit would be a real blessing, so I entered." About a month later she was notified she'd won not only the Transit, a perfect replacement for her old truck, but $5,000 cash. "As a result, I opened a catering branch of my restaurant." I am still available for pinches- just to make sure this is my life," she laughed. The restaurant's logo is now emblazoned on both sides of the Transit.
Riegling started entering sweepstakes at SweepstakesToday.com back in 2009. She figures that over time she's won at least $35,000, she said.
Asked what she likes most about sweeping she commented, "I love the dream of winning. I also like be a part of a community of sweepers."
The prize also put her squarely in SweepstakesToday's prestigious 10K Club according to site founder, Craig McDaniel. Known to his members as (Mr. Sweepy), McDaniel launched the (giveaway sweepstakes) site in 2004. "SweepstakesToday.com is a leading publisher of sweepstakes and contest for many major companies and advertisers like Ford Motor Company" McDaniel said. "In fact we publish for many of the Fortune 500 companies and brands and out preformed many of the social media websites according to third party ad agencies."
"There is no secret how to win," McDaniel explained. "It is just the matter of entering and you have a shot at winning. The key is persistency and consistency".