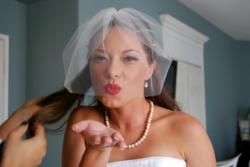 (PRWEB) August 21, 2012
Kimberly Carroll of Riverside is the newest 10K Member at (SweepstakesToday.com) it was announced today. It was her Grand Prize win in the Skintimate Ready for Everything Photo Contest & Sweepstakes with a photo of her daughter blowing a kiss at her wedding that put her into the prestigious club of sweepstakes winners.
Carroll found the online Sweepstakes Today back in 2009, she said in an interview, adding "prior to that I tried other sweepstakes sites …but they didn't have the great organization and forums like (Sweepstakes Today) does!"
"Becoming a member of the 10K club has been a serious goal of mine since 2009," Carroll said of her win, "and I am very happy to have achieved this status and plan to double it this year!"
Asked if she is addicted to sweepstakes, she replied, "I believe I am and usually enter every day unless something keeps me away from it!"
During the interview she was asked what she liked best about sweeping. "I like the thrill of the chance to win amazing prizes!! And at no cost, except for my time!" she replied.
She's no stranger to winning, it was reported, winning "many smaller prizes and a trip to San Antonio, Texas."
She was notified of her entry into the 10K Club when Craig McDaniel, founder and CEO of the popular site sent her an email.
"Entering regularly is the secret to her success," commented Craig McDaniel, who is known as "Mr. Sweepy" by many.
Carroll is an account manager at Blue Sky Window Cleaning, in Riverside where she has lived for 156 years. The company is owned by her son and daughter-in-law.
Sweepstakes Today LLC was launched online in March of 2004. The popular (sweepstakes website) site is based in Tulsa, Oklahoma and the custom Microsoft ASP/ASPX programming development is done in Salt Lake City, Utah. The website has now published over 37,000 sweepstakes, contest and giveaways. 242 members currently are in the $10K Club having won over $10,000 in cash or prizes.