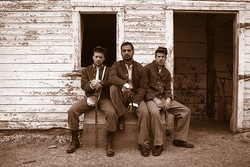 Sweet Briar, VA (Vocus) June 26, 2010
Staging Shakespeare outdoors has so far been a signature of the Blue Ridge Summer Theatre Festival at Sweet Briar College, now in its third season. The festival's artistic team — members of Endstation Theatre Company which produces the event — selects a site on Sweet Briar's wide-open campus and matches a Shakespearean classic to it.
This year their eyes fell upon an unused dairy barn. Laced with vines and covered in peeling white paint, it seemed an excellent backdrop to set "Hamlet" in the Virginia countryside during the Civil War.
The adjacent hillside creates a natural amphitheater, where patrons can spread blankets and picnic dinners while they enjoy the show. To complete the experience, the Lynchburg, Va., band Virgineola will play live during the performance.
The 2010 festival will be held July 1 through July 25 at Sweet Briar. Preceding "Hamlet," the other main feature will be "Alice in Wonderland" staged in Murchison Lane Auditorium. Madge Miller's adaptation of the Lewis Carroll children's classic is the theater company's first play intended for young audiences.
Founded in 2006 by Geoffrey Kershner and Krista Franco, Endstation is the resident theater company at Sweet Briar College. The company inaugurated its summer festival in 2008 with its original memory play, "The Bluest Water: A Hurricane Camille Story," and "Romeo and Juliet" set in front of the College's Benedict Hall.
The company strives for intimate staging in its productions, where viewers are close to the action, and to create theater that engages local audiences. Endstation produces new works, reinterpretations of classical plays, as well as original shows for the Central Virginia community based on historical, current and cultural events specific to the area.
Actors, directors, playwrights and interns come from all over to produce the festival. Traveling from as far as New York City and Britain, they live and work on the College's campus each season so they too have a chance to soak up the Central Virginia experience. You can read or view their often humorous reflections on the company's blog at http://www.endstationtheatre.blogspot.com.
Visit Endstation's Web site at http://www.endstationtheatre.org for more information.
If You Go:
"Alice in Wonderland" will be held at 7 p.m. July 1, 2, 7, 8 and 9; 10 a.m. July 3 and 10; and 2 p.m. July 3, 10 and 11. All shows will be in Murchison Lane Auditorium at the Babcock Fine Arts Center.
"Hamlet" will be shown at 7 p.m. July 14, 15, 16, 17, 18, 21, 22, 23, 24 and 25 on the Sweet Briar campus grounds, along Dairy Road.
Tickets can be purchased online at http://www.lynchburgtickets.com or reserved by phone at (434) 381-6537. Tickets are $15 for adults, and $5 for students.
Sweet Briar College is a nationally recognized all-women's liberal arts college near Lynchburg, Va. Information is available at http://www.sbc.edu.
Jennifer McManamay
Media, marketing and communications
Sweet Briar College
(434) 381-6330
###