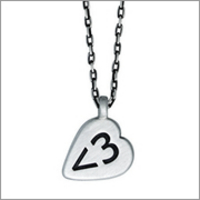 When I started designing jewelry, I would pick out gemstones that felt like little bits of candy to me – I just craved them
Los Angeles, CA (PRWEB) January 9, 2008
Just when you thought you knew all the emoticon symbols for every changing mood and emotion, The Smiley Collection from Sweet Tooth Designs has created another awesome "emoticon" — just in time for Valentine's Day.
The lovely, loving heart necklace design combines the "less than" keyboard symbol and the number "3" to create a heart within a heart-shaped charm. So whether it's better to give or receive, the special someone (who knows, it just may be you!) lucky enough to own this gift of "geek chic" will no doubt wear it close to the chambers of his or her heart.
Stamped in sterling silver and dangling from an adjustable 16" or 18" sterling chain, the Less Than 3 Heart Necklace is pure charm — and total emotion, and retails for $75.
To find out more about The Smiley Collection and Sweet Tooth Designs, turn your sights to http://www.sweettoothdesigns.com .
About Sweet Tooth Designs and Founder Laurie Chapman
What do desserts and jewelry have in common? Quite a bit, if you ask Sweet Tooth Designs founder Laurie Chapman. "When I started designing jewelry, I would pick out gemstones that felt like little bits of candy to me – I just craved them," Chapman says. 'That's how the name Sweet Tooth came to me. Picking out a diamond or wearing a little sapphire is like picking out that one truffle from the whole box, you can savor it on your tongue. Only difference is my jewelry isn't edible!"
The Sweet Tooth® lines are a series of playful, whimsical jewelry collections that are inspired from pop culture and the sweet life—Tiramisu, Jolly Rancher, Sorbet, Kiss, Iced Martini and Soda Pop—that launched the brand in 2005. Followed by Rock Candy, Linzer Tart, and a line called The Smiley Collection, that displays the popular "keyboard faces" used in email and IM.
A graduate of Parsons School of Design, Chapman spent over 16 years as a graphic designer and brand consultant in San Francisco, New York and Los Angeles, working with companies such as Visa, Mattel, Palm and Disney, among others. Chapman studied jewelry making, beginning at age 17, culminating with a jewelry metal smith class that she took when she moved to Los Angeles in 2004.
At that point, jewelry took over. "I'd just had my fortieth birthday and I realized that as my company name implies, I wanted a sweeter life." The sweeter life for Chapman now includes designing, coming up with creative marketing strategies and reaching out to new customers.
Contact: Laurie Chapman 310.582.1954 / laurie(at) sweettoothdesigns(dot)com
###