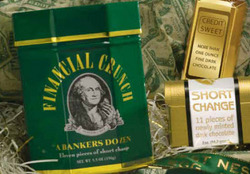 Princeton, NJ (PRWEB) November 8, 2010
Recognizing there are many interesting characters on your holiday gift list, Sweet Assets Chocolate highlights 10 unique gifts (and no, they are NOT all chocolate gifts) for the budget holiday shopper.
1. CHOCOLATE GIFT WITH A CENTS OF HUMOR
Sweet Assets Chocolate Gifts - $58
Each FINANCIAL CRUNCH tm Tin includes 11 (a Banker's Dozen!) of rich milk chocolate coins, with our signature "Tax Bite" already taken out! Clever packaging and gourmet chocolate. Watch video on site; get 15% off code.
2. SAILOR BAGS: SailorBags.com
Dopp Kit from Sailor Bags - $24
Durable and cool.
3. WORLD MUSIC LOVER: Putumayo.com
A Putumayo CD - $10
Music from cultures around the world.
4. SCENT MINDED: CBIHatePerfume.com
CB I Hate Perfume - $10-$17
Perfumes for men and women in travel sizes.
5. EVER THE GRACIOUS ONE: Thornwill.com
Thornwillow – about $35
Elegant, engraved stationary.
6. FOR HIM FROM MOMA: MomaStore.org
The Museum of Modern Art – $25 and up
From wallets to speakers.
7. HOUSE AND HOME: Lafcony.com
Santa Maria Novella Potpourri - $45
Unusual and magical scent.
8. CHARITY GIFT CARD: Charitygiftcertificates.org
Select an amount and recipient selects the charity.
9. WHISKEY ON THE MIND: Delight.com
From Delight.com - $60
Whiskey stones and glasses.
10. NEED A FINANCIAL BOOST?
Chocolate Gift Basket: Financial Stimulus Package - $90 – FREE SHIPPING
The ultimate financial STIMULUS PACKAGE tm – a chocolate portfolio of Chocolate Financial Crunch, Chocolate Nest Egg, Chocolate Short Change, and Chocolate Credit Sweet.
People are always experiencing some sort of Financial Crunch, but they never lose their "CENTS" of humor or desire for seriously rich chocolate. This season "Bite Back" with Sweet Assets Chocolate Gifts, the premier source for chocolate gifts.
Sweet Assets Chocolate Gifts is a leading retail supplier of seriously rich chocolate gifts. With a 100% Satisfaction Guarantee, there's no better source for year-round humorous and gourmet chocolate gifts. Sweet Assets Chocolate (Chocolate Gifts with a "cents" of humor) at http://www.sweetassetschocolate.com.
SOURCE: Sweet Assets Chocolate, 609-577-3502, Lisa(at)SweetAssetsChocolate(dot)com
###