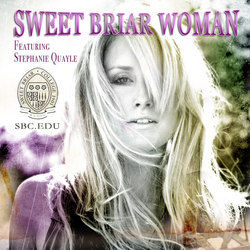 We're making a bold statement with these materials
Sweet Briar, Va. (Vocus) December 7, 2010
An admissions recruiting video and view book are the heart of an audacious marketing campaign launched this fall by Sweet Briar College.
Both pieces, and a completely redesigned Sweet Briar Magazine, can be viewed on the College's website, which also has a new look.
"We're making a bold statement with these materials," said director of media, marketing and communications Zach Kincaid. "We're using some unconventional approaches to say to prospective students that Sweet Briar is where you will flourish. And we're taking a lead in promoting not just the extraordinary educational experience we offer, but the value of women's colleges."
The changes — the first significant redesign of Sweet Briar's print and online publications in more than five years — come in the College's second year under the leadership of President Jo Ellen Parker. They also dovetail with an ongoing strategic planning initiative, and will build on an uptick in admissions this fall.
To develop the film and view book projects, Kincaid deliberately sought marketing firms whose core businesses are outside of higher education. They had to bring both a creative edge and a collaborative approach to help tell the story of Sweet Briar in an "imaginative, personal and far-reaching way," he said. "We didn't want someone telling us what we needed. We wanted a two-way partnership."
For the three-minute film, the College commissioned an original song by country music singer-songwriter Stephanie Quayle of Bozeman, Mont. Quayle's music, which often reflects her fierce independence both as an artist and a woman, has led to her involvement in women's advocacy groups and conferences as a speaker and performer. So when the call came about writing a song for a women's college, she checked it out.
"I went to the website and was blown away," Quayle said. "I loved the message. My gears shifted into songwriter mode."
She said the melody and chorus, which repeat on the video, came first. "It felt easy and right for the message. It says so much in so few words."
Quayle wrote the guitar part in a Nashville hotel room, recorded it and sent the mp3 file to the film company while the background vocals — sung by Sweet Briar students — were recorded on campus during the video's production. The remix used on the video is already available on iTunes, and Quayle is working on recording the full song for release.
The music, combined with the photography, results in a hauntingly affecting film.
"It's what I was hoping for," Kincaid said. "Our goal in marketing is to bring prospective students onto campus because once they see this place, many of them know Sweet Briar is right for them. This film will do that. It's forceful — and just like the view book, it stands apart from what others in higher education are doing with their marketing materials. Not what we're doing but how we're doing it."
The video is posted on YouTube, where in a few days it recorded more than 5,000 views. The College is reaching out to students, alumnae and other contacts to encourage it to "go viral," with a goal of reaching at least 25,000 viewers over the next three months.
Stylized graphics in the film and website background theme borrow from the view book's contemporary designs, which capitalize on a traditional symbol that gives the College its name. The pink sweet briar rose grew in abundance when what today is a 3,250-acre campus was the founding family's plantation home. The flower is embossed on the view book's cover in the word "flourish."
The artwork incorporates a complementary brown with an updated take on the school's traditional colors by mixing in hotter, brighter shades of pink and green.
The design elements are repeated in new banners and displays used on campus and at college fairs. The marketing office also has produced about a dozen videos chronicling campus life and will continue to post new ones on the Sweet Briar YouTube channel and sbc.edu.
Put together, Kincaid said, "All these things combine to say, 'We're here, we're a great college for women who will change the world. We've got excellent academics, a powerful alumnae network, and strong athletics and riding traditions, not to mention an incredible campus and dynamic community life that rivals any college or university in the country.' "
Sweet Briar College is a nationally recognized all-women's liberal arts and sciences college near Lynchburg, Va. Information is available at http://www.sbc.edu.
###