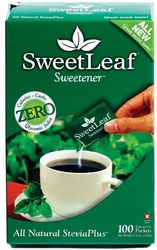 Gilbert, AZ (Vocus) August 27, 2009
In response to Monday's American Heart Association (AHA) statement that Americans need to cut back sugar intake drastically, SweetLeaf Sweetener® answers the call. Sweet, pure and natural, SweetLeaf Sweetener® is the leading sugar alternative on the market today. As the only completely all-natural stevia sweetener on the market, SweetLeaf™ offers zero calories, zero carbs and zero glycemic index.
According to the Monday article, the dietary intake of added sugar in drinks and foods is directly related to the increase in cardiovascular disease. While sugar found naturally in fruits, vegetables and dairy products is a healthy choice, Americans consume at least 22 teaspoons of added sugar each day, the equivalent of 355 calories in added sugars - a monumental quantity. The AHA also released guidelines for sugar intake, stating that women should be consuming no more than six teaspoons of added sugar a day, and setting the limit for men at nine teaspoons per day. SweetLeaf Sweetener® is the sweet solution, ideal for diabetics, weight watchers and everyone else too, to replace some or all of daily sugar intake deliciously.
A high sugar intake is a major factor in poor health and poor nutrition in the American diet. Some AHA studies implicate it in the rise of obesity, and it is also associated with increased risks for high blood pressure, high triglyceride levels, inflammation and risk factors for heart disease and stroke.
Produced by Wisdom Natural Brands™, SweetLeaf Sweetener® is a 100% all-natural alternative to sugar. SweetLeaf Sweetener® is made from stevia, a plant that was originally discovered in the rainforests of Paraguay about 2,000 years ago by the Guarani. They called it Ka'a He'e, meaning sweet herb. A high-quality stevia leaf is about 30 times sweeter than sugar and contains many important nutrients. It is 300 times sweeter than sugar in its extracted from. SweetLeaf™'s proprietary extraction process uses only high-grade stevia leaves from South America and cool purified water: no chemicals or alcohols ever touch the extract at any point, like they do in other brands.
SweetLeaf™ offers several sweetener products in a variety of forms and flavors including packets, tabs, and shaker bottles. All are perfect for everyday use in sweetening any foods or drinks, for example, flavoring water, fruit drinks, iced tea, oatmeal, yogurt, ice cream and smoothies. SweetLeaf™ can be substituted for sugar in any recipe and tastes delicious, without the aftertaste that many stevia sweeteners have.
The tabletop packets and shaker jar are ideal for sweetening hot and iced tea, coffee, cereal, yogurt, fruit or desserts. Convenient stevia tabs are easily carried in your pocket or purse for sweetening drinks on the go.
Embrace a sweet life, without the extra calories and health risks. SweetLeaf Sweetener® is the doctor-recommended delicious alternative to sugar.
For more information about SweetLeaf™, please visit http://www.sweetleaf.com
About Wisdom Natural Brands:
Gilbert, Ariz.-based Wisdom Natural Brands™ is the parent company of two highly-respected consumer brands, SweetLeaf™ stevia and Wisdom of the Ancients™ herbal teas. The company, in cooperation with scientists in South America, spent nearly two years developing a new and advanced processing methodology using only purified water from start to finish for the extraction of the sweet glycosides from stevia leaves in preparation for the launch of SweetLeaf Sweetener®. This all-natural sweetener alternative is the best-tasting in the industry and has zero calories, zero carbohydrates and zero glycemic index. For recipes, comparison charts with artificial sweeteners and more information, go to http://www.SweetLeaf.com
Contact:
Susanna Minegishi
Mcfadden/Gavender Advertising
520-882-6262
Karen Gavender
520-882-6262
Mcfadden/Gavender Advertising
###