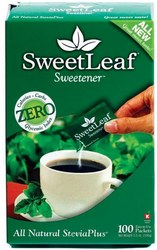 Gilbert, Ariz. (Vocus) September 16, 2009
SweetLeaf Sweetener®, the only zero-calorie, zero-carb, zero-glycemic index sugar alternative on the market today, has been invited to participate in The New York Academy of Sciences (NYAS) Annual Symposium on ''Type 2 Diabetes Disparities in Ethnic Minorities: Origin, Challenges and Solutions'' on September 15. SweetLeaf Sweetener® Founder Jim May will be present for the meeting to discuss why SweetLeaf™ stands alone as the purest and healthiest sugar alternative available.
The 300-plus physicians expected to attend the event are international experts in the field of diabetes, specializing in endocrinology, cardiology and nutrition, among other fields. Anticipated to help develop culturally-sensitive prevention, diagnosis, treatment and disease management programs for patients and healthcare providers, this program promises to be a seminal opportunity for diabetes management across diverse populations.
According to the NYAS, in developed countries, Type 2 Diabetes is disproportionately more common in ethnic minority groups, such as those with African, Native American, Hispanic, Asian and Pacific Island nation heritages. These groups tend to be 1.5 to 20 times more likely to develop diabetes than their white peers. There are also higher rates of complications, such as coronary heart disease or stroke.
SweetLeaf Sweetener® has made a significant commitment to combat diabetes through its participation in numerous expos, such as Taking Care of Your Diabetes Expo and American Diabetes Associations Expo, such as the one upcoming in New York City on Sept. 26 at the Jacob Javits Convention Center, and subsequent ones in October in San Diego and Minneapolis. The company was also a sponsor of the recent Diabetes, Exercise and Sports Medicine Conference at Harvard Medical School and participated in the International Children with Diabetes Conference at Walt Disney World. By partnering with the medical community across the world, SweetLeaf Sweetener® continues to establish itself as the only 100%-natural, delicious and healthy alternative to sugar.
SweetLeaf™ offers several sweetener products in a variety of forms, including packets, tabs and shaker bottles. All are ideal for everyday use by weight watchers, athletes, diabetics and everyone else wanting to reduce the amount of added sugar in their diet when sweetening any foods or drinks. SweetLeaf Sweetener® is especially ideal for diabetics because it has no impact on blood sugar levels.
The difference between SweetLeaf™ and all other stevia sweeteners on the market is that SweetLeaf™ does not chemically alter the molecular structure of the sweet compounds called glycosides. Instead, SweetLeaf Sweetener® is produced by isolating and extracting the four sweetest glycosides produced naturally within the stevia leaf. This results in a purer, sweeter-tasting stevia extract with no aftertaste that does not require masking agents or other flavoring compounds.
While all other stevia sweetener extracts are made with processes that require various chemicals, solvents and alcohols, including ethanol and/or methanol, which leave residues in their sweetener products, SweetLeaf Sweetener® is made entirely with high-grade stevia leaves in a proprietary cool, purified water filtration process. No chemicals or alcohols ever touch the stevia leaves and no chemical residues are found in the extract or products made from it.
In addition, SweetLeaf Sweetener® packets are made with only two ingredients: SweetLeaf Sweetener® stevia leaf extract, taken from the naturally-occurring sweet compounds of the stevia leaf, and the world's finest inulin, a prebiotic all-natural vegetable soluble fiber found naturally in fruits and vegetables, as a carrier for the high intensity sweetener, to make it more convenient for consumer use. Unlike the other stevia sweetener brands that use sugars and sugar alcohols with flavor enhancers for this purpose, the use of inulin in SweetLeaf™ also nourishes the body's good intestinal flora, improving digestive health and supporting immune function.
For more information about SweetLeaf™, please visit http://www.sweetleaf.com .
About Wisdom Natural Brands
Gilbert, Arizona based Wisdom Natural Brands is the parent company of two highly respected consumer brands, SweetLeaf Stevia™ and Wisdom of the Ancients® herbal teas. The company, in cooperation with scientists in South America, spent more than a year developing a new and advanced processing methodology using only purified water from start to finish for the extraction of the sweet glycosides from stevia leaves in preparation for the launch of SweetLeaf Sweetener®. This all natural sweetener alternative is the best-tasting in the industry and has zero calories, zero carbohydrates and zero glycemic index. For recipes, comparison charts with artificial sweeteners and more information, go to http://www.sweetleaf.com .
Contact:
Susanna Minegishi
McFadden/Gavender
O: (520) 882-6262 M: (520) 444-9223
susanna(at)mcfaddengavender(dot)com
Karen Gavender
McFadden/Gavender
O: (520) 882-6262 M: (520) 603-4200
karen(at)mcfaddengavender(dot)com
###