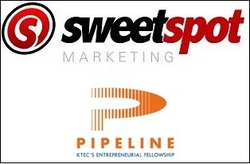 It has been a great honor to be a part of such a phenomenal program of study and review
Overland Park, KS (PRWEB) February 8, 2011
Sweet Spot Marketing, a Kansas City Search Engine Marketing Agency specializing in Search Engine Optimization and Paid Search Advertising, is proud to announce that CEO David Barnes has completed the 2010 PIPELINE Entrepreneurial Fellowship Program as one of only ten selected business leaders chosen to participate in the year-long project.
"It has been a great honor to be a part of such a phenomenal program of study and review," said David Barnes, the Founder and President of Sweet Spot Marketing. "I can't thank Pipeline, KTEC, and the other participants enough. From both a business and leadership perspective, I feel that I've personally become a better CEO and that I am armed with new learning that will benefit our company as we address the high-growth opportunity we're facing in the coming year."
The PIPELINE program was founded five years ago by the Kansas Technology Enterprise Corporation as the first program of its kind in the country, which continues to stand out as the only statewide fellowship program designed to both equip high-growth entrepreneurs with the training, networks, resources and mentors to assist them over their entire career--while aggressively growing an entrepreneurial ecosystem over a diverse geography.
The hands-on engagement is meant to groom new generations of high-growth Kansas companies. PIPELINE scours the state each year and selects approximately 10 company leaders to be part of the immersion program.
Barnes was part of a 2010 graduating PIPELINE class that also included "Innovator of the Year" award winner Jeremy Jones of Nitride Solutions (Wichita); Nate Gregory, MoJack (Wichita); Jay Kim, Data Locker (Lenexa); Jeff Southard, VasoGenix Pharmaceuticals (Lenexa); and Bryan DiGiorgio, Workspace Communications (Overland Park).
The PIPELINE 2010 commencement event boasted nearly 600 in attendance and drew attention and participation from entrepreneurs and business leaders around the country, including more than 30 Kauffman Global Scholars and Faculty.
About Sweet Spot Marketing:
Founded in 2007, Sweet Spot Marketing has served both small businesses and advertising agencies alike, as providers of a variety of Search Engine Marketing (SEM) programs, including Search Engine Optimization (SEO), Paid Search Advertising (also known as PPC or Pay-Per-Click programs), and Web Design services. The service offerings at Sweet Spot Marketing allow their clients and agency partners to customize a variety of web marketing solutions to any individual need. Professional search marketers, like the Paid Search Account Managers at Sweet Spot Marketing, know the intricacies of the paid search marketing world and how to maximize client budgets and returns.
The Sweet Spot Marketing offices are located at the Antioch Plaza Office Complex near 67th and Antioch Road in Overland Park, Kansas. Visit sweetspotmarketing.com for more information or call (913) 859-9886 to reach Sweet Spot Marketing directly.
###