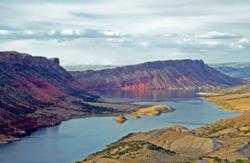 Sweetwater County, WY (PRWEB) December 14, 2012
Known for its canyons and high-desert country, Sweetwater County, Wyo. has been slotted as the first stop on The Wild Calls' series of seven-day geologic wilderness tours beginning summer 2013.
Offered by native Wyomingite and professor emeritus Charlie Love, the tour offers vacationers the chance to explore the vast Wyoming landscape with insights into the geography, paleontology, anthropology, archaeology and history of its features. The per-person trip fee of $2,750 covers hotel stays, admission fees, educational material, some meals and gifts, plus luxury tour bus travel accommodations. The trip also includes stops at Yellowstone and Teton National Parks.
In each of the 10 trips scheduled from June through October, the trek, which starts at Salt Lake City International Airport, stops first in Green River, Wyo. Day two takes explorers to Flaming Gorge Reservoir, the perfect setting for a scenic drive and an easy hike. A side trip through the Sheep Creek Geologic area gives tourists another shot at spotting big-game wildlife like bighorn sheep, Rocky Mountain elk, moose and pronghorn antelope. A visit to a local museum follows, with time afterward to explore the night life in Rock Springs.
Developing the geologic tour over the course of his 40-year professorship, Love brings a wealth of experience and knowledge to the excursions. He comes from a family of geologists – his father is regarded as the greatest Rocky Mountain field geologist of his generation – and earned two masters degrees in geology and archaeology. He spent a year working for the Smithsonian Institution in conjunction with his studies on Easter Island and has presented lectures across Europe on the topic.
The Wild Calls beckons individuals to discover the wonders of nature, and Sweetwater County promises to deliver. From its canyons and lakes to its sand dunes and ancient volcanoes, the area is a hotbed for "-ological" studies.
Visit http://www.thewildcalls.com to reserve a seat on one of the tours. For more information on activities and attractions in Sweetwater County visit http://www.tourwyoming.com.
About Sweetwater County
Sweetwater County, located halfway between Yellowstone and Canyonlands National Parks in southwest Wyoming, is home to 10,500 square miles of pure, high desert adventure. Known as "Flaming Gorge Country," the area is characterized by the 91-square-mile Flaming Gorge Lake, the famed Green River, expansive deserts and rugged mountains. Activities include camping, hiking, biking, fishing, golfing, sightseeing, wildlife viewing, hunting dinosaurs, shopping, and just plain getting away from it all. A perfect place to explore American history, Sweetwater County is also home to petroglyphs, pioneer trails and historical museums. The county fair "The Big Show" was recently named a top ten fair in the country by Livability.com.