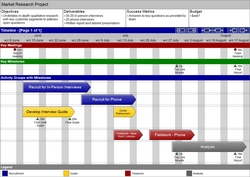 a project management tool and a communication tool in one
New York, NY (PRWEB) October 13, 2009
Torridon Solutions today annouced the availability of Swiftlight Project Management Software, a great looking, simple and fast new solution for general managers and consultants, as well as project management specialists.
Managers at all levels are involved in projects these days, but many of them find traditional project management software, such as Microsoft Project, to be overly complex for their needs. In the absence of better choices, they often end up using Excel and/or PowerPoint which can be very inefficient in this project management role. For example:

It can be very time-consuming and painful to build or update project timelines in PowerPoint, particularly when high quality outputs are needed for senior management.
Timelines created in Excel may be hard to configure for clear display and communication;
And it's common that plans are hard to update and thus fall into disuse.
Now, however, there's a great new option. Swiftlight is described by its creators as "a project management tool and a communication tool in one".
"In some ways, Swiftlight is a hybrid of a project management tool and PowerPoint" says Peter McWhinnie, the CEO of Torridon Solutions, the company who created Swiftlight. "Swiftlight combines a simple and practical project management structure, with outstanding ease of use and outputs that look like high quality PowerPoint slides. This allows users to build great looking project plans incredibly quickly. In the video on our website, we show a project timeline getting created in less than 5 minutes - it's that easy and that fast".
It's a package which is appealing to general managers, consultants, and more specialised project managers:

"Swiftlight is self-sufficient. I don't need a parallel document in PowerPoint or in Excel … I have everything I need to communicate and check just there …" Constance Baroudel, Group Director, Multi-National Printing Company
"I love the visual timeline construction and display. It allows me to produce Executive Committee-ready communications very quickly." Stuart Lloyd-Hurwitz, Business Transformation Consultant
Swiftlight is being used by a wide range of organizations and is best suited to smaller, simpler projects rather than large, complex IT or engineering projects. Users highlight a number of key benefits:

It saves time. User trials have shown that Swiftlight is three times faster than users' current tools - saving hours of precious time;
It helps people stay on top of their projects by providing clear timelines and to-do lists that make it easy for people to see both the "big picture", and what needs to happen when;
It improves team buy-in and management oversight through providing clear outputs that improve communication.
…and there is no need to invest in significant training. Thanks to Swiftlight's intuitive interface, it is easy to use and learn with most users getting going effectively after only a short demo.
"Swiftlight is a valuable addition to the toolkit of managers, consultants and project managers, and it comes at a substantial cost saving over Microsoft Project", says Peter McWhinnie, "We encourage anyone who is involved in projects to take a look at our website, sign up for the free trial and see for themselves."
Swiftlight is a desktop application designed for Microsoft Windows. For more information or to get a free 30 day trial of Swiftlight, visit: http://www.SwiftlightSoftware.com
###