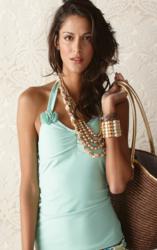 Our swim wear features design details that correlate to the latest trends, like those you see on the runways in New York or Paris. Yet they are priced at more than half the cost of other designer swim wear.
Salt Lake City, UT (PRWEB) April 20, 2011
DownEast Basics debuts its 2011 swim wear collection today, offering women high style, trendy yet modest swimsuit designs that can be worn at the beach or poolside while staying on a budget. The swim wear's mix-and-match options and designs that complement every body type are a perennial favorite among shoppers.
This year, DownEast fashion designer Andrea Updike infused the new line with metallic prints as just one of the latest trends. The brand's sister company, Modbe Clothing, has released a new line of swim wear just in time for summer, as well.
"There are so many great colors this year that were fun to incorporate into the swim line," said Updike. "Interesting and unexpected pairings of color were my inspiration. My favorite new DownEast swim prints are the scroll pattern, block floral and tropical oasis."
Customers can shop all of DownEast's swim styles online at http://www.downeastbasics.com/downeastswim.aspx. Modbe's swim selections are available online at http://www.downeastbasics.com/modbeswim.aspx.
"Our swim wear features design details that correlate to the latest trends, like those you see on the runways at fashion shows in New York or Paris – including metallic prints, appliqué flowers, ruffles and stripes," said Updike. "The benefit for our customers is that they can dress in style while saving over half of what they would spend on other designer swim wear."
The DownEast swim line, which originated in 2008 with six tops and two bottoms, has proven so popular that the brand expanded the line to over 40 pieces in 2011. This year's line offers styles and prints in a variety of options so shoppers can mix and match to create their own combinations, including choosing from swim tanks, halters, bikinis and skirts, as well as layering options with DownEast's summer cover-ups and swim dresses.
"With our fabulous pairing options of swim wear with our fun cover-ups and casual summer dresses, a woman can go from splashing in the pool to other activities without having to change her entire outfit," said Updike.
With mix-and-match swim wear pieces ranging from $22.99 to $32.99, and cover-ups and dresses beginning at just $34.99, shoppers can enjoy multiple looks for summer fun.
Some of Updike's personal favorites in the new swim line include:

The Silver Metallic Stripe Sausalito Halter – Why? "I love the metallic stripe and the colors look great with a tan!"
Scroll Print Santa Barbara Halter: "The colors give it a vintage feel and the gold metallic detail says beach goddess."
Sea Harbor Halter: "I love the appliqué flower detail on the top and bottom and the sea color is beautiful."
New styles from DownEast for 2011 include three new swim tops to complement its best-selling styles from years past – the Sea Harbor Halter, Tropical Tank and Beachside Halter. Also new are three bottoms: the Sea Harbor Bikini, Waverider Bikini and Boardwalk Bikini.
In the opinion of Updike, who also leads the design team for the new Modbe swim line, the prints and color stories of the Modbe swim wear really set it apart from other 2011 summer styles. "The vintage prints and colors give it a high-end, boutique feel," she said.
Among her favorites from the Modbe line are the Sunshine Top, for the "classic Hollywood" shape of its retro style; and the sea blue polka dot banded bikini bottom, for its timeless print and color.
The main differences between the DownEast and Modbe lines are the swim tops – the Modbe selections are longer and provide more coverage for those looking for modest swim wear.
About DownEast Basics
DownEast Basics (http://www.downeastbasics.com) offers high-design looks on a bargain basement budget for today's cost-conscious yet fashionable consumer. The DownEast Basics clothing line features smart layering pieces and wardrobe enhancing garments so you can embrace the American classic look with your own sense of style.
Shop for cute tops, modest dresses and accessories for women and girls at DowneastBasics.com.
The fast-growing retailer operates nationally with its Basics line via its online store in addition to 42 locations throughout the West including in Utah, Colorado, California, Idaho, Arizona, Washington, Nevada and Wyoming.
# # #