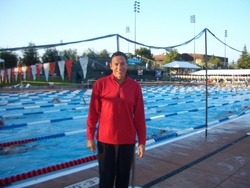 The beauty of it is
Denver, CO (PRWEB) August 6, 2009
World records were falling in droves at the Long Course Regional and Zone Masters Swim Championships in Thousand Oaks, California last weekend, and local swimmer Michael Mann was personally responsible for a healthy chunk of the new records. Swimming in the 55-59 age group, Mann, a Littleton local and the founder and owner of the innovative swim instruction facility SwimLabs, set new world records in the 800 freestyle (9:00.09), the 400 free ( 4:22.49), the 200 IM (2:21.93), the 400 IM ( (5:04.07) and the 200 free (2:04.01). In the 100 freestyle, Mann settled for a new national record (57:08), just one short second off the new world record set the week before by Jack Groselle. Five world records and one national one: not a bad day in the pool.
Not surprisingly thrilled with his performance, Mann credits his new training regime, which focuses on both perfecting stroke technique and the quality as opposed to quantity of training. "Technique," according to Mann, "is the one easy place to make a huge difference in swimming efficiency. It's what SwimLabs is all about and it's great to see that it works well for me too." Mann uses the same formula for improving his own technique as he does with his many SwimLabs clients - videotaping his strokes and then examining them closely and comparing them to swimmers who demonstrate perfect stroke technique. "By identifying minor flaws in my own strokes, I can correct them and improve my times. It definitely works," said Mann. In light of Mann's recent performance, there is little room to argue that point.
Mann, who grew up in Littleton, has been swimming his entire adult life. Rather than lamenting his deteriorating performance as he aged, he instead looked for ways to continue to compete at the top level, maintaining and even improving his times. From that desire, the notion for SwimLabs was born. It gave Mann an outlet for his obvious passion for swimming and helping other swimmers, as well as a way to continue to hone his own skills in the pool. "The beauty of it is," explained Mann, "that not only am I swimming faster than ever, but by swimming better I am also avoiding the dreaded injury bug that gets so many athletes in their forties and fifties." Mann apparently has no plans for slowing down, and is already looking forward to his next big meet.
SwimLabs, an innovative swim instruction facility in Highlands Ranch was founded in 2004 by Mann and his partner Giff Cutler, another longtime Colorado athlete. For more information about SwimLabs,visit http://www.swimlabs.com or call 303.798.SWIM (7946).
###