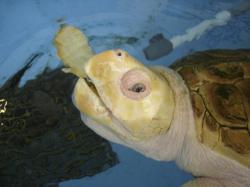 (PRWEB) November 26, 2012
Taking the time to teach your children to swim is undoubtedly one of the most important things a parent can do. A feature on the sports blogsite InspirationalSportsStories.com indicates the TV interview that offered parents a few tips on how to get their children interested in swimming. Wildlife conservationist Scott Tucker, host of the educational 'Expedition New England' TV show recently explained to WTNH's 'Good Morning Connecticut' host Jeff Valin that New England's abundance of clean shallow rivers, brooks, ponds and streams are the ideal places for children improve their swimming skills and maybe even try snorkeling for the first time.
Tucker explained to Jeff Valin that although swimming pools are wonderful places for children to learn to swim they can broaden their horizons and learn more about what kind of creatures live in the water by exploring underwater with some basic snorkeling equipment. Tucker also explained that by snorkeling children can learn about the fish that live in the waterways without causing any harm to them or their natural ecosystem.
The Sports website article featured also had some good advice for where to swim. When asked by Valin what the best rivers to explore were an enthusiastic Tucker said that 'nowhere was out of bounds but the best places were rivers and streams that were about waist deep.' Tucker also added that basic snorkeling equipment can be purchased for about $20 from most sporting goods retailers and large supermarkets. Although his son Race was wearing his wetsuit during the interview Tucker pointed out that Race only wears the wetsuit while out in the fresh water because he is spoilt at home because his Mom keeps their swimming pool at a constant 85 degrees all year round!
Helping to improve your children's swimming skills while at the same time as exploring local waterways without even needing a wetsuit can be a fantastic way to educate and stimulate their senses. Learning more about the natural environment and the connection between water based and land ecosystems is also a lot more fun in the water too. Scott Tucker doesn't only spend his time exploring the wildlife of New England, he also embarks on exciting overseas expeditions. In 2011 he visited the Galapagos Islands in the Pacific Ocean and in early 2013 is heading Tanzania on Safari. To find out more about his adventures and expeditions visit http://www.eepinc.org/.