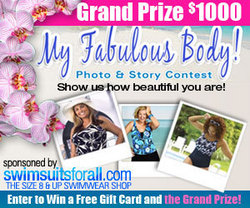 Mildred, PA (PRWEB) May 24, 2010
Swimsuits For All thinks it is about time that plus size women have a vote and a voice in asserting their own unique and confident beauty.
The Swimsuits for All "My Fabulous Body" Swimsuit Contest will run for twelve weeks from May 24 until August 24, 2010. Each week a winner will be chosen. Contestants can log-on to the contest website, register, and upload a photo of themselves in their favorite swimsuit, or tell us a story about how their favorite swimsuit makes them feel confident and beautiful. Each winner will be given a gift card and will be automatically entered into the Grand Prize contest to win a $1,000 American Express gift card. If an applicant has not been selected as a winner, then she may re-post her photo and/or story the following week(s).
WHO Can Enter: Swimsuit-loving, beautifully confident plus size women!
WHAT: My Fabulous Body Contest being sponsored by Swimsuits for All
WHEN: Beginning May 24 and ends August 24, 2010
WHERE: Contestants can log-on to http://www.swimsuitsforallcontest.com to enter
WHY: Contest gives plus-size women a voice to express what they love about their bodies and their favorite swimsuits
Swimsuits For All is a company which wants its customers to feel beautiful both in and out of the pool. That is why Swimsuits for All is stepping out to sponsor what many major magazines like Vogue and Glamour say has become a sort of "Year of the Plus Size Model" swimsuit contest. Vote for your favorite story to help our Fit and Flatter team select the Grand Prize winner!
For Further Registration Questions Contact:
Swimsuits for All
Phone: 1-888-241-SWIM
Email: help(at)swimsuitsforall(dot)com
Website: http://www.swimsuitsforallcontest.com
# # #