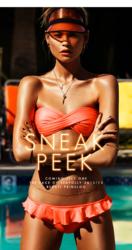 This year, the hottest looks are bright bold colours, tropical prints, vintage florals and sophisticated stripes.
Melbourne, Victoria (PRWEB) July 02, 2012
Australia's mecca for bathing attire, Swimwear Galore, are set to reveal this season's hottest styles from around the globe, with new stock arriving on an almost daily basis from July 1, 2012. Fresh from the catwalk to Swimwear Galore's retail shelves and online store are more than 70 leading international brands, including perennial Australian favourites Seafolly, Jets, Baku, Sunseeker, Isola, Speedo, Tigerlily, Ginja, 2Chillies, Rival and Funky Trunks.
The new arrivals are set to excite the Australian public, and allow the whole family to be at the height of swimwear fashion whether they're heading off for a sun-drenched holiday or hitting their local indoor heated pool.
Marketing & Online Manager, Caz Skudar is eager to release the hot new styles that are coming from both Australian and overseas designers, saying, "Year on year, swimwear just keeps getting better and better. Whether it's styling or colour, it's always an improvement on the previous year. All of our staff are excited to see what the designers come up with each year, they always manage to keep in fresh and on trend."
Turning her attention to what's in vogue this season, Ms Skudar announces, "This year, the hottest looks are bright bold colours, tropical prints, vintage florals and sophisticated stripes. Taupe is featuring in the stripes and where last year's fashion included plenty of coral, this year it's evolved into brighter orange tones."
"The vintage look is still strong, teaming beautiful balconette styling with high pants. Belts are also strong this season, as is hardware like gold bead trims which are featured on most fashion styles."
The company buyers for Swimwear Galore travel around the globe and regularly attend trade shows in Europe and America, in order to keep up with the latest in swimwear fashion and discover specialty overseas brands that are must haves for their stores.
As Ms Skudar explains, "While we believe that we really do have the best swimwear in the world designed right here in Australia by brands such as Seafolly Swimwear, Speedo and Baku, our buyers travel to Miami in July and Paris in September to keep up with the latest trends in swimwear. "
"They buy specialty styles that we feel are lacking in the Australian market – like plus size styles from America, and large cup sizes up to an H cup from Europe. We've also found some great men's brands in Europe."
Adding further excitement to the arrival of the new stock has been the announcement of who will be the face of leading local swimwear brands.
"Everyone in our office was keen to hear who would be modeling the amazing new collections from our favourite Aussie brands," exclaims Ms Skudar.
"Speedo is again using Rachel Finch and 2Chillies have announced Jodi Gordon will be their swimwear ambassador. Hot on the heels of Catherine McNeill, the 2012 Summer Collection of beautiful Seafolly Bikinis and swimsuits will be modeled by Behati Prinsloo. Baku are also adding a Victoria's Secret Angel to the mix, with Ana Beatriz Barros set to model their 2012-13 Summer Range."
The latest swimwear fashion from around the globe will be available in Swimwear Galore's 5 retail locations and online store from July 1, 2012 and are sure to excite the Australian public as they head off for coastal or poolside getaways.
Customers looking to view the latest in swimwear fashion, can visit http://www.swimweargalore.com.au.
About Swimwear Galore
Swimwear Galore began 30 years ago with just one small rack in a family owned fabric shop. Since then, it has become Australia's largest swimwear retailer, offering the latest trends and over 70 of the world's leading brands all year round.
The key to their success is recognising that every body is different, every body is beautiful and ensuring they cater for all shapes and sizes and provide options for the whole family.