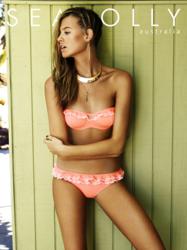 Every body is different and we ensure that we can not only cater for all physiques, but we can make every body type look beautiful.
Melbourne, Victoria (PRWEB) November 05, 2012
As Summer temperatures start to climb, so too does the sense of dread for female consumers who are on a quest for a new swimsuit. Australian swimwear experts, Swimwear Galore, have announced this no longer needs to be the case thanks to their unique 'Shop by Shape' system, which takes the guesswork and frustration out of finding a style to suit each individual body.
As Marketing & Online Manager, Caz Skudar explains, "While swimsuit styles may have changed over the years, there are not many people who look forward to trying one on at the start of Summer! This is why we've made it our business to help our customers find the perfect style for their particular body type so they can feel beautiful, comfortable and confident when they go to the beach or pool."
"In developing our unique 'Shop by Shape' system, we've stayed well clear of the old fruit bowl analogy, and instead used over three decades of experience and extensive research to create six individual profiles".
Shoppers can use detailed descriptions to assist them in identifying if their particular profile is Bootylicious, Tummy Trouble, Big Bust, Curvy, Petite or Small Bust, and then discover a vast amount of fashionable swimwear sets that will be most flattering for them.
Swimwear Galore's retail shelves and online store are fully stocked with the hottest looks that are fresh from the catwalk from more than 70 leading international brands, including Australian favourites Seafolly, Jets, Baku, Sunseeker, Isola, Speedo, Tigerlily, Ginja, 2Chillies, Rival and Funky Trunks.
As Mrs Skudar reveals, "The key to our ongoing success for over three decades has been recognising that every body is different and ensuring that we can not only cater for all physiques, but we can make every body type look beautiful."
"In addition to the 'Shop by Shape' profiles, we also stock the hottest looks in women's plus sizes, cup sizes up to a G cup, maternity and mastectomy."
As well as being able to swiftly solve their female customers' swimsuit dilemmas, Swimwear Galore can also accommodate the whole family, with a large range of men, girls and boys swimwear, chlorine resistant styles for pool lovers, and a comprehensive range of accessories such as cover-ups, sun protection, hats, beach bags and sunscreen.
Consumers wanting to view the latest in swimwear fashion all year round and establish which costumes will suit them best can visit http://www.swimweargalore.com.au.
About Swimwear Galore
Swimwear Galore began 30 years ago with just one small rack in a family owned fabric shop. Since then, it has become Australia's largest swimwear retailer, offering the latest trends and over 70 of the world's leading brands all year round.
The key to their success is recognising that every body is different, every body is beautiful and ensuring they cater for all shapes and sizes and provide options for the whole family.