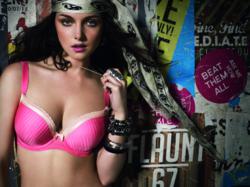 We were really able to connect with the bloggers and advise them all about the importance of perfectly fitting lingerie, we hope they all enjoyed the Freya experience
Desborough, Northamptonshire (PRWEB) May 25, 2012
Held on the 12th May 2012 at 8 Northumberland Avenue, London, Cybher welcomed nearly 400 bloggers through its doors from right across the UK – all getting together to network and celebrate their love of blogging, family and fashion.
As a sponsor of the event, Freya took the opportunity to showcase their Autumn/Winter 2012 collections; including lingerie, swimwear and loungewear, available in sizes from an A to a K cup.
In addition to showing their latest designs, Freya had a team of expert bra fitters standing by to offer guests a professional fitting at the Freya Bra Booth. There was bra advice available too. This is all part of Freya's ongoing campaign to raise awareness of the importance of wearing a perfectly fitting bra and maintaining good breast health.
The Freya team found that 99% of attendees hadn't been professionally fitted for a number of years. As a result, many were wearing the wrong bra size. However, all the women who came into the Freya Bra Booth were more than willing to receive a professional bra fitting at the event.
Freya asked women at the booth for their opinions on lingerie sizing and many were surprised to find that they a few cup sizes bigger than they had thought.
Ann-Marie Manley Head of Marketing said, "Taking part in Cybher was fantastic. Many of the attendees were mums, new mums or avid fashion followers, so they were really interested in the Freya collections and very excited to be offered a professional bra fitting in our Freya Bra Booth. We were really able to connect with the bloggers and advise them all about the importance of perfectly fitting lingerie, we hope they all enjoyed the Freya experience."
About Freya
Freya create lingerie, loungewear, swimwear and sports bras especially designed to offer fit and support for women with larger bust sizes. Their range is available up to a K cup and includes balcony, plunge and strapless bras. Based in Northamptonshire, UK, Freya is part of the global Eveden Group, home to a number of lingerie and swimwear brands specialising in larger cup sizes. For more information about Freya please visit freya.com or email press(at)freya(dot)com