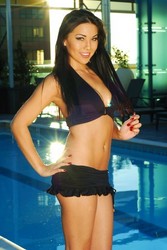 Many fine people have had their credit lines reduced and some have even had their credit cards canceled. Many people are opting to pay with cash for more of their purchases so that they can better manage their budgeting. In addition, there are some people who just will not use their credit card online as they are concerned about safety
Beverly Hills, CA (PRWEB) February 26, 2009
Bestswimwear.com, leading online retailer of designer swimwear and a leading swimwear resource, has revolutionized the way business is done online, by allowing customers to pay for their purchases with cash!
Claude Dauman, President and founder of BestSwimwear.com, felt it important, in this changing economy, to step back and evaluate every aspect of on-line shopping. He concluded that customers would benefit from incorporating some old world technology into the online shopping experience.
"Now, as we face an unprecedented international financial crisis, people are looking at money and credit in a different way", states Dauman. "Many fine people have had their credit lines reduced and some have even had their credit cards canceled. Many people are opting to pay with cash for more of their purchases so that they can better manage their budgeting. In addition, there are some people who just will not use their credit card online as they are concerned about safety".
When a customer is ready to complete their order at BestSwimwear.com, they are given three payment options: 'pay with credit card', 'pay with Paypal' or 'pay with cash'. If they select 'pay with cash', they are routed to an online form which requests their shipping and contact information. Afterwards, the customer receives an order confirmation which details BestSwimwear.com routing and account numbers at the four major U.S. banks. Customers can then pay for their purchase by walking into one of four major US banks and making a cash deposit into a BestSwimwear.com bank account, at the teller window.
They say every thing old is new again, and when it comes to shopping, people have been paying with cash and coin for thousands of years. It seems only natural to continue to offer that option, even when shopping online.
About:
Bestswimwear.com is the leading online retailer of designer swimwear. Established in 1996, Bestswimwear.com offers more than 28 premium swimwear lines, many of which are featured in top fashion publications. Bestswimwear.com serves more than 5 million visitors annually.
# # #