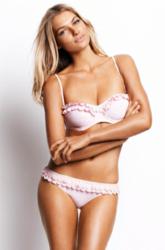 Swimwear Galore's extensive end of summer sale offers shoppers bargains on leading brands like Seafolly.
Melbourne, Victoria (PRWEB) April 16, 2012
With an abundance of new season's fashion items soon to arrive at Swimwear Galore, the leading swimwear retailer has announced their extensive 'End of Summer Sale'. The sale features heavy discounts on leading brands such as Seafolly, Jets, Tigerlily, Baku, Ginja and Speedo, and will provide a welcome saving to consumers in need of new swimwear for their vacation over the Easter break or school holidays.
"Everyone loves a sale, particularly at Swimwear Galore because we don't have one every week! Our annual sale is a true sale and gives shoppers the chance to pick up a real bargain on the big names," explains Marketing & Online Manager, Caz Skudar.
"And considering summer has only just finished, the best part about this sale is that it gives customers the chance to look and feel great on their upcoming holiday in what are still the hottest styles."
The sale includes a broad range of styles and sizes and features up to 70 per cent reductions on a comprehensive range of ladies, mens and kids swimwear, as well as sun protection items, clothing and accessories.
Sale items are avilablle from Swimwear Galore's online store as well as at their physical locations in the Melbourne suburbs of Fitzroy and Geelong. There is also a small selection available at their other retail outlets.
To assist with finding the most flattering outfit for their particular bodyform, shoppers can use Swimwear Galore's custom developed 'Shop by Shape' system.
This provides detailed descriptions to identify if their shape is Bootylicious, Tummy Trouble, Big Bust, Curvy, Petite or Small Bust, and then leads the shopper to the range of swimwear sets that will be most flattering for them.
Swimwear Galore stocks over 70 brands in total all year round, including leading Australian labels Seafolly, Speedo, Jets, Baku, Sunseeker, Isola, Speedo, Tigerlily, Ginja, 2Chillies, Rival and Funky Trunks.
Consumers looking for further details about current sale items or to establish which costume is best for their shape can visit http://www.swimweargalore.com.au.
About Swimwear Galore
Swimwear Galore began 30 years ago with just one small rack in a family owned fabric shop. Since then, it has become Australia's largest swimwear retailer, offering the latest trends and over 70 of the world's leading brands all year round.
The key to their success is recognising that every body is different, every body is beautiful and ensuring they cater for all shapes and sizes and provide options for the whole family.