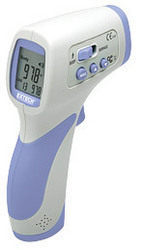 Waltham, MA (Vocus) April 30, 2009 -
Extech Instruments, a subsidiary of FLIR Systems, Inc., (NASDAQ: FLIR) answers the increased need for rapid and accurate fever screenings for swine flu virus with the Extech Non-Contact Forehead Infrared Thermometer (model IR200). As the death toll climbs in Mexico, the country of origin for the swine influenzavirus A (H1N1), international business and tourism travel has significantly raised the hazards of swine flu virus disease transmission to potentially global, pandemic proportions.
Travel and health officials in countries around the world are looking for affordable options to quickly and reliably scan individuals in airports and hospitals for symptoms of swine flu, such as fever-level temperature. People who indicate above-normal temperatures are usually isolated for more conclusive testing, with the goal of containing the spread of disease. Public health authorities are using non-contact forehead infrared thermometers as a simple, quick, touch-less, and non-invasive way to perform preliminary screenings for H1N1 fever symptoms (body temperatures above 98.6 degrees Fahrenheit or 37 degrees Celsius).
The Extech IR200 non-contact forehead IR thermometer is designed for simple, expedient, and accurate initial fever screenings of groups by aiming the thermometer at areas of the face, such as the forehead or tear ducts (at the corners of the eyes). Clicking the trigger displays an instant temperature reading with 0.1 degree accuracy (Fahrenheit or Celsius). Individuals being screened do not need to remove protective masks or glasses ensuring quick, orderly, problem-free fever screenings of large groups such as queues at airports, train stations, hospitals, or other public, travel- and/or health-related facilities. The Extech IR200's was designed specifically for forehead fever detection from a 1"-4" distance with an 86° to 122°F (30.0° to 50.0°C) temperature range.
The specialized Extech IR thermometer is being used by airports, hospitals, stations and terminals to identify passengers with possible swine flu infection symptoms. Two key advantages of the Extech IR thermometer over traditional medical thermometers make it an important tool in any "first line of defense" strategy:
1. The Extech IR200 is considered a cutaneous thermometer because it measures body surface temperature. The thermometer doesn't actually touch individuals being screened however, unlike oral or infrared ear thermometers (also known as aural or tympanic thermometers), thus minimizing transmission risks to screeners or health workers.
2. Temperature readings are displayed in less than a second, as opposed to oral thermometers which take up to 30 seconds to display final measured temperature.
In a 2003 study related to the SARS epidemic, infrared technology was used to screen incoming patients and visitors to the Wan Fang Hospital in Taipei, Taiwan. The findings suggested that non-contact temperature detection using infrared technology was an effective and reliable tool ideal for mass-screening patients with fever in the initial phase of screening for SARS patients at a busy hospital which saw approximately 3,000 outpatients every weekday during the SARS epidemic. (Infrared Thermography to Mass-Screen Suspected SARS Patients with Fever, Chiu MD, et al., APJPH, Vol. 17, No. 1, 26-28)
The Extech IR200 non-contact IR thermometer does not replace conclusive methods of swine flu A (H1N1) detection however it plays an essential role in preliminary expedited fever screening strategies (along with aural or axillary thermometers for fever confirmation). The IR200 thermometer works by determining face surface temperature (versus absolute body temperature). At the start of fever screenings, screeners can establish reference values of normal temperatures by factoring average values of several normal-temperature subjects, facility/room temperatures, and other environmental factors. When temperatures detected exceed 1 degree, a subject can be isolated for further testing and if confirmed, receive treatment and quarantine.
The Extech thermometer suggested retail price is $79.99. For more detailed specifications about the Extech IR200 non-contact IR thermometer and ordering information, visit our website, extech.com.
About Extech Instruments, a FLIR Company
Headquartered in Waltham, Massachusetts, USA, Extech Instruments is one of the largest suppliers of test and measurement equipment worldwide. Founded in 1971, Extech is known for its depth and breadth of products and its innovation in providing instruments with unique combinations of features that make them highly useful and very convenient. All Extech meters are distributed worldwide through leading representatives, distributors and OEMs. The company is ISO 9001 2000 certified and is a wholly owned subsidiary of FLIR Systems, Inc. For more information about Extech Instruments, visit http://www.extech.com.
Contact
André Rebelo
Global PR Manager
Extech Instruments, a FLIR Company
+1-781-434-3901
andre dot rebelo at flir dot com
###