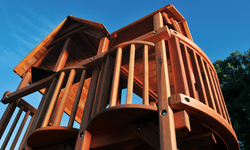 Families have counted on Woodplay for over three decades to develop fun, safe and durable playsets. We're always working to bring new and fun ideas to our playsets. Our new 2009 Funnovations are one more great way Woodplay delivers 'Fun Over Time!'
Raleigh, NC (PRWEB) April 21, 2009
Woodplay®, the Original Redwood Playset Company, announces its newest Funnovations™ for 2009: Cozy Curves, Bay Balconies and its special Alpine Slide. Woodplay has been the outdoor playset innovator for over 30 years. This year the fun continues with opportunities to create roomier decks, loftier heights and unique contours for the ultimate swing set. Woodplay playsets offer endless add-on possibilities to match kids' imaginations. Parents love Woodplay swingsets because they offer industry leading safety and durability features that started with Woodplay and are now industry standards. Now is a perfect time to plan your playset purchase and see all the new Funnovations Woodplay has in store.
Woodplay playset Cozy Curves let you add unique visual interest to your playset. Bay Balconies offer new ways to add interesting angles to your playset. If you choose any newly designed 2009 model of Woodplay playset, you can add Funnovations like Cozy Curves and Bay Balconies to extend the fun.
Another new Funnovation is the Alpine Slide. This 11 foot slide not only offers a thrilling ride down, it also includes special hand grips that make it fun to climb up. What goes up must come down, so the Alpine Slide is twice the fun of a regular slide. Alpine Slides, Cozy Curves and Bay Balconies can all be added to any 2009 Woodplay playset to deliver hours of outdoor fun.
Tom Ellingson, Woodplay's Product Manager, states that Woodplay's 2009 Funnovations are some of the company's most innovative features yet: "Families have counted on Woodplay for over three decades to develop fun, safe and durable playsets. We're always working to bring new and fun ideas to our playsets. Our new 2009 Funnovations are one more great way Woodplay delivers 'Fun Over Time!' " Mr. Ellingson said.
Woodplay has set the standard in the backyard playset industry with its playset Funnovations and its history of innovative design and safety features. Parents can depend on Woodplay for commercial grade, heavy duty galvanized hardware for amazing durability and strength. The innovations don't stop there as Woodplay developed many of the features other playset manufacturers have adopted. The playset hardware is recessed and includes Acorn bolt caps for safety. Woodplay playsets feature the strongest joints in the industry, with a distinctive three-way interlocking system that includes triple-bolted joints and more through-bolts. Bigger beams, easy climb angled ladders, non-skid "Steel Strong" ladder rungs, notched angle braces that offer increased support, and adjustable A-frames that allow secure placement even on uneven ground make Woodplay playsets the standard bearers in the premium playset arena.
2009 is a great year to purchase a new Woodplay playset and take advantage of all of the latest Funnovations. When designing your playset online you can browse all the playset possibilities. Woodplay's focus is on "Fun Over Time" and what better way to make that happen than to purchase a new playset and enjoy Cozy Curves, Bay Balconies and an Alpine Slide for spring and summer fun.
About Woodplay:
Woodplay has manufactured residential redwood playsets for over 30 years. Woodplay playsets are premium play centers that offer more value than traditional swing sets. Families can enjoy accessorizing their playsets with a variety of swings, additions, roof options, slides, toys and more to make the fun last. Parents have myriad choices when it comes to selecting swingsets and playhouses for their children. Made from the finest redwood obtained from suppliers who follow sustainable forestry practices, Woodplay playsets include quality safety features like oversized handles, large safety handrails, safety panels, and rail cushions. As one of the original wooden playset companies, Woodplay playsets are part of lasting memories that have brought families and friends closer together for years.
Find out more about Woodplay outdoor playsets and accessories, or for dealer showroom information, please contact:
Larry Gajderowicz
Marketing Manager
Escalade Sports
812.467.1332
larryg @ escaladesports.com
http://www.woodplay.com
###