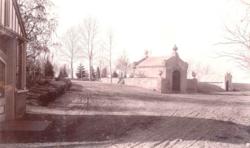 "This is a special place in Denver, particularly for those who visit loved ones here." – John Gibson, President, Swingle
Denver, CO (Vocus/PRWEB) April 19, 2011
Earth Day 2011 finds Colorado's largest lawn, tree and landscape care company beautifying a space of historical importance to the city of Denver and of emotional significance to many families.
On Friday, April 22, 2011, Swingle Lawn, Tree and Landscape Care will provide time, expertise and labor for the Colorado Association of Lawn Care Professionals' (CALCP) Third Annual Day of Service at Riverside Cemetery, Denver's oldest operating cemetery. The effort is provided in conjunction with the Professional Landcare Network's (PLANET) National Day of Service. Swingle Lawn Manager Tom Lynch, a CALCP Board Member, will help with turf projects while additional Swingle employees perform tree removals. Swingle is a member of PLANET.
"This is a special place in Denver, particularly for those who visit loved ones here," said John Gibson, President of Swingle and past President of PLANET, "and it's been significantly affected by Dutch Elm Disease and other factors. We hope that our efforts to revitalize Riverside make life easier for visitors."
Riverside Cemetery is designated as a National Historic District and was listed in 2008 as one of Colorado's "Most Endangered Places." It is located one half mile north of I-70 at 5201 Brighton Boulevard, Denver, CO, 80216. The revitalization labor will take place on the morning of Friday, April 22, 2011. Media please contact Donna Ralston, CALCP (303) 850-7587, donna(at)mngmntplus(dot)com.
About Swingle Lawn, Tree and Landscape Care
Founded in 1947 by tree surgeon John Swingle, Swingle Lawn, Tree and Landscape Care has grown to be the one of the largest residential and commercial landscape care companies in Colorado, employing more certified arborists than any other Colorado company. For information please contact (303) 337-6200 or visit http://www.myswingle.com.
###