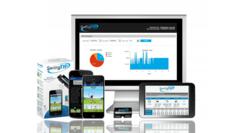 SwingTIP turns your mobile device into your own personal swing coach
Santa Clara, CA (PRWEB) September 26, 2012
Today, Mobiplex announced the availability of the SwingTIP Golf Swing Analyzer—an innovative Bluetooth-enabled 3D motion sensor device that clips onto a golf club, mobile apps for iPhone®, iPod Touch® and Android™ devices, and a personal MySwingTIP.com account. SwingTIP delivers the ultimate interactive learning experience in a complete package that includes video-like swing animations, mechanical statistics, instructional learning and performance tracking scorecards and MySwingTIP.com. Golf enthusiasts that purchase the $129.99 SwingTIP package on swingtip.com before October 17, 2012 will receive a free Holster Accessory 2-pack (valued at $19.99). The SwingTIP package is also available at butler-golf.com
"SwingTIP goes beyond 'activity tracking' and 'metrics' to turn your mobile device into a personal swing coach that assesses your swing in real-time," said Vijay Nadkarni, Founder and CEO, Mobiplex. "It creates the ultimate interactive learning experience by telling a golfer what happened, why it happened, and how to improve."
To design SwingTIP, Mobiplex engineers partnered with leading experts in golf, including Masters Tournament Champion and PGA Pro Craig "the Walrus" Stadler; Ray Leach, former PGA player, NCAA record-holder and instructor at Peacock Gap Golf Club; and David Butler, a 2011 Golf Digest Best Club Fitter and expert in professional-grade golf swing analysis technology.
Visualization: The Key to a Better Golf Swing
As Jack Nicklaus famously said, "I never hit a shot, even in practice, without having a sharp, in-focus picture of it in my head." SwingTIP features a patent-pending ProView Motion Analysis™ engine that can accurately capture, analyze, and digitally reproduce a video-like animation of a golf swing in three dimensions. Visually analyze the parts and positions of your swing to "see your swing characteristics" and understand "why the ball faded left." Review your swing alongside key performance metrics that pinpoint what happened including Swing Path, Club Face Angle, Impact Zone, Club Head Speed and Swing Tempo.
"I was amazed that SwingTIP was able to accurately capture and display my natural golf swing," said Stadler. "With SwingTIP, you learn what your swing looks like and feels like when you make a great shot, and you learn how to repeat it. Engaging and fun, SwingTIP delivers the real-time, unbiased, and accurate golf swing analysis that golfers need to hone their swing to perfection. "
Learn, Improve, and Track Your Progress
To help golfers adjust, correct, and improve fundamentals, the SwingTIP mobile app allows users to save and review favorite swings and provides instructional tips, videos and reference swings from Ray Leach. Practice session scorecards summarize performance stats, and can be emailed from within the app to a friend or Pro for advice. Wirelessly upload swing data to MySwingTIP.com to see "Performance Summary and Trend" reports for any time period, and club-type.
"SwingTIP helps golfers achieve greater impact at the moment of truth – when the club face hits the ball. The instant visual and statistical analysis that SwingTIP delivers makes it the most efficient, effective and fun way to master the sport," said Ray Leach.
Lightweight Device, Heavyweight Performance, Energy-Efficient Design
Weighing just one ounce and with dimensions similar to a USB flash drive, the SwingTIP device won't affect your swing. The two-part device consists of a Bluetooth-enabled 3D motion sensor that slides into a club holster. The two-clamp holster keeps SwingTIP securely in place on the club shaft, swing-after-swing. A built-in, pop-up sight lever makes it easy to properly align SwingTIP onto the club shaft. SwingTIP is also energy-efficient, turning itself off when not in use, and staying charged through a 200-swing practice session or a round of golf.
The SwingTIP packages include:

SwingTIP Golf Swing Analyzer Package ($129.99 MSRP) – Wireless 3D motion sensor, club holster clip (with sight-lever alignment tool), shims (for smaller club shafts), micro-USB cable for charging, and Quick Start Guide (free mobile app with electronic scorecards, and a personal MySwingTIP webpage).
SwingTIP 2-Pack Holster Package ($19.99 MSRP) – Attach a holster clip to every club; easily move the sensor from club-to-club for uninterrupted practice.
The SwingTIP Android app can be downloaded today at Google Play. The SwingTIP Apple iOS app will be available in the coming days in the App Store. (The iOS mobile app works on an iPad®. In the future, an optimized "made for iPad" app will be available.)
Press kit materials and images are downloadable at ClubHouse. Find technical specifications here. Watch the product video on YouTube.
###
About SwingTIP
The SwingTIP Golf Swing Analyzer is an innovative Bluetooth-enabled 3D motion sensor device that delivers real-time golf swing analysis to an iPhone®, iPod Touch®, or Android™ Device. SwingTIP uses a patent-pending ProView Motion Analysis™ engine to accurately capture, analyze, and digitally reproduce a golf swing in three dimensions; view it alongside key performance metrics. SwingTIP delivers the ultimate interactive learning experience including video-like swing animations, instructional learning, and performance stats, scorecards and MySwingTIP.com. For more information, visit us at http://www.swingtip.com
About Mobiplex
Founded in 2010 in Silicon Valley, Mobiplex is a revolutionary venture specializing in mobile and wireless sports performance technology to help athletes improve their skill levels for better enjoyment of the game. Leveraging patents in biomechanics, wireless, pattern recognition, and motion sensing, the company has developed its patent-pending ProView Motion Analysis™ engine that can accurately capture, analyze, and digitally reproduce a sports motion in three dimensions. The company's first product, SwingTIP, delivers real-time golf swing analysis via a Bluetooth app-cessory and the MySwingTIP website. For more information, please visit http://www.mobiplex.com