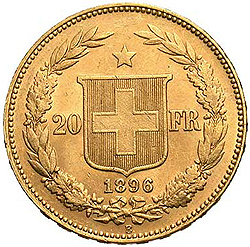 Universal City, CA (Vocus) September 28, 2010
The Swiss gold franc may be one of the oldest commonly traded gold coins in the international market since 1896. While the European market is struggling to connect gold investors in traditional methods, US gold dealer Regal Assets allows Americans to buy gold online and have it shipped direct to their homes. Regal Assets is known for its high standards of only offering gold that is globally recognized and now offers the Swiss gold franc, French gold francs and British gold sovereign.
The Swiss gold coins have a history of being preferred over other world gold coins due to Switzerland's reputation in the financial market. Switzerland's location and political stability have helped make it one of the world's most important financial centers. It is still considered to be world's most stable countries in its currency has never been devalued. With the global financial crisis causing an unpredictable future for the US dollar, more countries are starting to purchase gold to back debt and hedge against inflation.
The Sovereign British gold coins also hold a reputation similar to Swiss gold and is recognized in every country. The British gold coins have seen such a demand that minting began again in the year 2000 to meet the economic forecast. It wasn't soon after that the global recession began and individuals, companies and countries started placing larger orders. Gold sovereign coins are repeating history again as a preferred gold investment.
The French gold coins are the only other recognized world gold coins accepted by the international market. French gold francs have the same content properties at Swiss gold francs but with a bit more history. The most popular of these French gold coins is the French angel, also known as the "Lucky Angel" coin. Regal Assets now offers all three French gold coins to include the Napoleon, Angel and Rooster. They are purchased by gold coin investors for not only their gold content but the historical collectible value.
Regal Assets is encouraging Americans to diversify their savings or investments with world gold coins due to financial globalization. The price of gold continues to go up as countries like China, India and Japan have started gold purchasing programs for their central banks and encourage their citizens to buy gold. Regal Assets is encouraging Americans to take notice of the world market and start making some educated decisions starting with Swiss gold. Swiss gold francs can be purchased over the phone at 1-818-308-8844 or buy gold online thru http://www.regalgoldcoins.com.
###