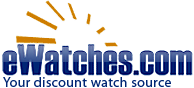 A New Year and a new sale. It is perfectly aligned with our loyal consumer base to give them a phenomenal start to the new year with earth-shattering prices on our entire inventory.
Hollywood, Florida (PRWEB) January 03, 2012
This weekend the world celebrates the New Year by saying out with the old and in with the new. For eWatches.com that sentiment doesn't just extend to the dawning of 2012. It also translates to new Swiss watches just added to both eWatches' site and their New Year's Super Savvy Savings Sale. Every watch in the sale is slated to be heavily discounted, by savings of more than 90%. The sale features some of the popular watch site's most well-sold styles, from both the leading Swiss watch manufacturers as well as the other leading brands offered on the site.
eWatches is well-loved by their loyal customers because they offer some of the best watches by some of the most esteemed watch manufacturers in the world at every price point imaginable, from the low teens to the multiple of thousands.
eWatches even discounts Swiss Made luxury watches by manufacturers including Rolex, Breitling and Tag Heuer. What's more, they also carry watches by premium Japanese watchmakers like Seiko, and domestic watches by manufacturers including Activa and Invicta. In addition, watches manufactured by leading design houses such as Calvin Klein, Fendi and Gucci are also carried and offered at discount prices.
A previously Swiss watch manufacturer, now a leading domestic manufacturer of men's and women's watches, Invicta, is one of the most popular brands that eWatches sells. This is, in part, because their styles are on par with the luxury Swiss watch manufacturers, while their prices are fiercely competitive. Indeed, watch styles by Invicta watches cater to all tastes and needs. From designer-looking chronograph watches and diver's-style watches, to ceramic and traditional bracelet-style. Invicta manufactures a men's watch and women's watch for every aesthetic and budget and type of event.
This year, eWatches plans to wow their loyal consumer base with more sales and more site-wide discounts than they have ever seen before and this starts with the New Year's Super Savvy Savings Sale. Beginning New Year's Day, watches across the board will be deeply discounted and the sale will extend to the site's most popular styles of Swiss watches and new merchandise.
About eWatches
eWatches.com is an award-winning website that has been selling watches to tens of thousands of satisfied customers since 2003. In both 2007 and 2008, Inc. Magazine selected eWatches.com as one of America's 500 Fastest Growing Companies in its annual Inc. 500 list. eWatches gives customers a superior shopping experience with:

FREE Shipping on all domestic orders
100% Satisfaction Guarantee
Low Price Guarantee
30 Day Money Back Guarantee
To get the latest buzz and inside scoop, follow eWatches on Facebook and Twitter at 'ewatchescom'.
###