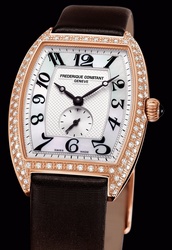 GENEVA (PRWEB) October 5, 2008
With continued stable sell-out in most areas and strong expansion in countries in The Middle East, Russia and Asia, Frederique Constant expects to reach again a substantial growth by the end of 2008. With an impressive growth rate between 25 and 35% over the past twelve years, the Geneva-based brand created a solid position within the Swiss watch industry.
About Frédérique Constant
Frédérique Constant is an independent family owned watch manufacturer based in Plan-les-Ouates, Geneva. The company is involved in all stages of Watch Production, from initial design to final assembly and quality control. Frédérique Constant watches are defined by their high quality, differentiation and precision in design and manufacture. Frédérique Constant has a passion for design of beautiful watches. Their perceived value — through quality of design, materials, and manufacture — is a key component of its success. Each watch is assembled by hand and extensively controlled with latest equipment to ensure maximum quality. The company innovates to offer creativity and exceptional value. Its 3200 square meters factory in Plan-les-Ouates Geneva is ultra modern and offers the best environment for its passionate watchmakers. Production will reach 100'000 timepieces in 2008. More information can be found at http://www.frederique-constant.com or blog.frederique-constant.com.
MULTIMEDIA GALLERY http://www.businesswire.com/cgi-bin/mmg.cgi?eid=5795846