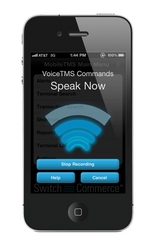 The addition of voice commands to our MobileTMS app sets a new standard for mobile technology in our industry as ATM terminal portfolios can now be managed simply by talking into your phone.
Irving, TX (PRWEB) February 16, 2011
Switch Commerce, a leading electronic payment transaction processing company, has released a revolutionary enhancement to its best of breed MobileTMS smartphone application for iPhone and Android. With the addition of voice commands, ATM owners and operators can now perform any terminal management system function by speaking, with no typing required. A video demonstration of MobileTMS voice commands is available on the Switch Commerce website.
After launching MobileTMS as the industry-first mobile terminal management app in 2010, Switch Commerce again leads the payment processing industry by introducing voice commands to manage ATM portfolios. Independent Sales Organizations (ISOs) and Independent ATM Deployers (IADs) now have an exceptionally powerful, yet easy-to-use, solution to manage their ATM portfolios. Voice commands allow for simplified ATM management and faster navigation of MobileTMS' powerful array of management options, plus hands-free operation for ISOs and IADs on the move.
Given the tremendous growth of the iPhone and Android mobile platforms, specialized applications that capitalize on the advanced mobile technologies are increasingly important in the fast-paced world of payments processing. With the addition of voice commands through the MobileTMS upgrade, available for free through the Apple App Store and Google Android Market, ATM owners and operators will have real-time, 24/7 access to cash balances, transaction details, alerts, reporting, and other terminal information for an entire ATM portfolio.
"The addition of voice commands to our MobileTMS app sets a new standard for mobile technology in our industry as ATM terminal portfolios can now be managed simply by talking into your phone." said Timothy J. Warner, Founder & Chief Executive of Switch Commerce. "With the introduction of voice commands as the primary means of requesting real-time information about ATMs, we've eliminated the need for ISOs and IADs to type, and in turn, empowered them to conduct their business hands-free."
In many cases, MobileTMS voice commands allow ATM operators to identify and address terminal issues before a customer is impacted, without ever typing a word. Combining the smartphone's GPS, microphone, and built-in motion tracking sensors, with real-time access to Switch Commerce's industry leading payment processing platform, MobileTMS automatically begins recording when the user is ready to speak. Once a command has been spoken, requests are executed instantly, with no typing required.
"Necessity is the mother of invention, and once again Switch Commerce has raised the bar. MobileTMS with voice commands was written in anticipation of everything an ATM operator needs to manage a portfolio from the road. I can run reports and literally have a conversation with my terminals from anywhere, without ever touching my phone or tablet." said Darryl Ware, co-owner, WWS ATM Sales & Service.
As the first company to offer voice command technology for mobile ATM management, Switch Commerce again establishes a new ATM industry best practice. MobileTMS improves efficiency for operators of thousands of automated teller machines that rely on Switch Commerce for anytime, anywhere, mobile ATM management.
About Switch Commerce
Switch Commerce LLC, is a leading ATM and point of sale transaction processor. The company provides state-of-the-art ATM transaction processing and credit card merchant services, including mobile and voice terminal management solutions backed by industry leading technology and exceptional customer support. Switch Commerce is privately held with operations located in Texas and California. For more information about the company, please visit switchcommerce.com or call 972-550-8900. Switch Commerce can also be followed on Twitter @SwitchCommerce and on Facebook.
###