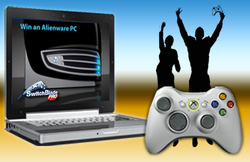 Maitland, FL (PRWEB) February 2, 2009
Central Florida-based Blue Orb, Inc. and Full Sail University announced today a national promotion that will let gamers win a powerful Alienware PC and free trials of the new SwitchBlade™ PRO product. This event coincides with the rollout of new features for Blue Orb's SwitchBlade PRO, the popular software that enables today's most widely played PC games to be played with a game controller. The Alienware giveaway begins today and runs through the end of February 2009.
SwitchBlade PRO provides the industry's most comprehensive pre-programmed support for PC game play using a controller. Customizable controller layouts are created by Blue Orb game testers and packaged with SwitchBlade PRO, giving the gamer a true plug-and-play console experience when playing their favorite PC game. SwitchBlade PRO is intuitive, easy to use software that brings the fully configured controller experience to more than 25 of the most popular PC games, including World of Warcraft, Guild Wars, Half-Life 2, Age of Conan, Warhammer Online: Age of Reckoning, Call of Duty 2 and 4, and the new Call of Duty: World at War.
In addition, SwitchBlade PRO includes the patented and unique Texter™ system for messaging and chatting in games using only the controller. Natural thumb button movements produce all the characters and numbers needed for easy convenient messaging from the user's controller, with stored phrases and full configuration provided through SwitchBlade PRO's configuration menus. Fully animated onscreen tools guide the user through typing messages, displaying commonly-used phrases and providing the ability to text in other Windows applications.
Also included as a new feature for SwitchBlade PRO is the BladeBuilder™ tool that gives each gamer the ability to create and share controller support for new games via a rich and powerful graphical user interface. SwitchBlade PRO now supports Xbox 360 and PlayStation 3 SIXAXIS controllers, as well as the latest Logitech and Saitek controllers.
Andrew Solberg, vice president of marketing for Full Sail University remarked, "2009 will be a strong year for Full Sail as we continue our Game Art and Game Development Bachelor of Science degree programs for gamers who want to become pros at the game. Working with Blue Orb and the innovative SwitchBlade PRO product on this Alienware giveaway enables us to further spread the word about Full Sail to future students here in Central Florida and across the country."
"This exciting Alienware giveaway is a great way to kick off the New Year for gamers around the country!" commented Pete McAlindon, president and CEO of Blue Orb. "We're pleased to team with Full Sail to create this event for the Central Florida and national gaming community. It's another step in our commitment to continue rolling out more new programs for our users. Look for more great announcements in 2009."
To enter the SwitchBlade PRO Alienware Giveaway go to http://www.switchbladepro.com/alienware .
About Blue Orb, Inc.
Blue Orb, Inc. is a high technology company located in Maitland, Florida that specializes in the research, production, distribution, and licensing of advanced software and input systems for gaming, computing, and communications devices. The company's mission is to create and bring to market innovative products that enhance the gaming experience. For more information on Blue Orb and our products please visit our Web site at http://www.blueorb.com.
About Full Sail University
Since 1979, Full Sail University, located outside of Orlando, FL, has been an innovative educational leader for those pursuing careers in the entertainment industry. With over 30,000 alumni, graduate credits include work on Oscar, Emmy and GRAMMY®-winning projects, best-selling video games, and the #1 grossing U.S. concert tours. Full Sail's 190-acre campus and online education platform proudly welcomes over 6,100 students from 50 states and 50 countries.
Full Sail currently offers a total of seventeen degree programs including: Associate of Science Degrees offered in Graphic Design, Recording Arts and Show Production & Touring; Bachelor of Science Degrees offered in Computer Animation, Digital Arts & Design, Entertainment Business (online and on-campus), Film, Game Art, Game Development, Internet Marketing (online), Music Business and Web Design & Development; and Master of Science Degrees in Education Media Design & Technology (online), Game Design, Entertainment Business (online and on-campus) and Internet Marketing (online); and a Master of Fine Art in Media Design.
Full Sail was most recently was named the 2008 "School/College of the Year" by the Florida Association of Postsecondary Schools and Colleges. The university has also been named: The Harvard of Game Schools by Tips & Tricks Magazine; one of the top three New Media Schools by Shift Magazine (alongside the Massachusetts Institute of Technology and New York University); one of the Top Five Game Degree Programs in the world by Electronic Gaming Monthly; one of the Best Music Programs in the country by Rolling Stone Magazine; one of the Best Music Business Departments in the Schools That Rock: The Rolling Stone College Guide; and one of the Best Film Programs in the country by UNleashed Magazine.
For more information about Full Sail, please visit http://www.fullsail.edu.
Blue Orb, SwitchBlade, GameBlade, Texter, and BladeBuilder, are Trademarks or Registered Trademarks of Blue Orb, Inc. All other company and product names may be trademarks of the respective companies with which they are associated.
###