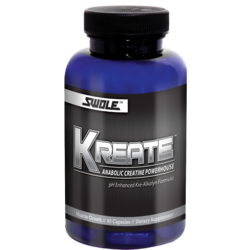 Delray Beach, FL (PRWEB) January 31, 2012
Swole Sports Nutrition, a revolutionary sports nutrition and supplement company is proud to announce that KREATE™ is now in stock at retailers Nationwide, and is the latest successful addition to a rapidly expanding product line. This supplement does not just feature the popular pH buffered Kre-Alkalyn® form of creatine, but the team at SWOLE® decided to enhance the formula even further. By adding the powerful amino acid D-Aspartic Acid, Ecdysterone a potent natural compound extracted from herbs and MethoxyIsoflavone, a non-hormonal compound that can support protein synthesis, this hybrid product may effectively be the first of its kind.*
KREATE™ aims to be way more than your average or basic creatine product. Designed with the athlete in mind, SWOLE®'s innovative creatine formula offers a pH balanced state which may lead to better absorption and the ability to skip the traditional loading phase.* If an athlete is looking for a creatine product to deliver energy and strength gains, KREATE™ is a hybrid formula that is designed to provide results beyond that of creatine alone.* With improved strength and recovery, any level of athlete may experience longer work-outs and increased muscle growth.* Since Swole Sports Nutrition decided to use Kre-Alkalyn® in the formula, the product works well in a pill form and in a dosage that is very easy to take.* The suggested use is to consume only three (3) capsules per day, preferably prior to intense exercise and/or first thing in the morning on non-training days.* The idea is to reduce the amount of "waste" that occurs in other forms of creatine, such as monohydrate.*
One of the greatest enemies to a good workout is fatigue and energy, which could lead to shorten exercise periods and less results.* It's time to fight back with KREATE™, Swole Sports Nutrition's new creatine sensation. It's time to evolve your workout. Don't Just Train™… Get SWOLE®!
About SWOLE® Sports Nutrition:
Headquartered in Delray Beach, Florida, Swole Sports Nutrition (SWOLE®) is a sports science and nutrition focused company that develops a full line of nutritional supplements designed to achieve maximum results, high potency in low doses and high value offered at competitive pricing.* With a rapidly expanding supplement line and a variety of available gear and apparel, SWOLE® can provide the necessary essentials to help both athletes and ordinary people achieve better results in less time.* For more information about the company, upcoming events and updates on new products in development, please visit http://www.swolesports.com.
*These statements have not been evaluated by the Food and Drug Administration. This product is not intended to diagnose, treat, cure or prevent any disease.
Kre-Alkalyn is a registered trademark of BioCeutical Research & Development Laboratory (BR&D)
# # #