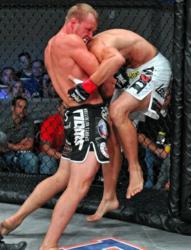 Delray Beach, FL (PRWEB) September 20, 2011
Swole Sports Nutrition, a Florida based, innovative sports nutrition and dietary supplement company is proud to announce their National television debut with multiple sponsorships of professional Mixed Martial Arts (MMA) athletes throughout the month of September, 2011. The first televised event sponsored by SWOLE was during the Bellator Fighting Championships Tournament, which broadcasted live on major network MTV2 on Saturday, September 10th at 9pm, EST. This Welterweight Quarter Finals matchup was between two respected veterans for the co-main event of Bellator 49 in Atlantic City, New Jersey. "This was an important fight for me, and I am proud to have a quality company like Swole behind my training and nutrition," said Santos about the fight and sponsorship.
The very next weekend, Swole Sports Nutrition sponsored seven (7) more professional Mixed Martial Arts athletes, who all competed at Bellator 50, which was hosted by the Hard Rock Live in Hollywood, Florida on September 17th. This event was also nationally televised, with the main card shown live on MTV2 and the entire undercard was streamed live on Spike.com. To continue the trend, Swole Sports decided to sponsor both athletes in the co-main event, which was the Middleweight Quarter Finals round matchup of Alexander Shlemenko (41-7) versus Zelg Galesic (10-6). Shlemenko, who was the Middleweight Tournament winner last season, defeated Galesic by submission in Round 1. He will move on to face Brian Rogers in the semi-finals round of the tournament next month.
This was an especially important event, as it showcased some of the best talent in the state of Florida. SWOLE takes pride in supporting local and upcoming athletes, so this event posed the perfect opportunity to do both. "This event was a great showcase of things to come. A lot of young talent was on display, as well as some of the top ranked veterans fighting to climb the ranks, here in the state and beyond. We are excited to not only support great fighters but also to support great people competing locally, but on a National stage." as stated by Swole Sports Nutrition management. Swole Sports proudly sponsored the following athletes at Bellator 50 on September 17th, 2011: Ailton Barbosa (9-2), Marcos da Matta (8-2), J.P Reese (4-1) Shah Babonis (11-7), and Martin Brown (2-1). Congratulations to all of the winners of this exciting, talent packed card.
What's next for Swole Sports Nutrition and Mixed Martial Arts? They are already working on finalizing more main card sponsorship opportunities for the rest of September and well beyond, as well as currently adding more top-tier athletes to their TEAM SWOLE roster. This includes upcoming sponsorship plans for another Bellator Main Event, which will feature Alexis Vila versus Joe Warren live on September 24th, 2011. With this type of activity, SWOLE can expect to further establish their brand as a new industry leader within one of the fastest growing sports in the world. By providing sports nutrition products that are designed to deliver the high quality results needed to fuel the best athletes, this may be a partnership that can provide a win-win for both parties for years to come.
About SWOLE Sports Nutrition
Headquartered in Delray Beach, Florida, Swole Sports Nutrition (SWOLE) is a sports science and nutrition focused company that has developed a full line of nutritional supplements designed to achieve maximum results, high potency in low doses and high value offered at competitive pricing. With a rapidly expanding supplement line and a variety of available gear and apparel, SWOLE can provide the necessary essentials to help both athletes and ordinary people achieve better results in less time. For more information about the company, upcoming events and updates on new products in development, please visit http://www.swolesports.com.
###