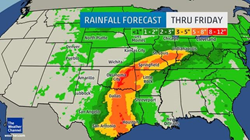 We live and work in the areas affected and will continually work with all customers who need our services as recovery efforts grow in demand
Houston, Texas (PRWEB) June 17, 2015
Texas is feeling the effects of hurricane season already with the first Gulf of Mexico tropical storm. Tropical Storm Bill made landfall hitting areas of Galveston and Houston hard, causing flooding and extensive water damage for the already drenched communities. Teams are positioned throughout Texas working with universities and state agencies to mitigate damage and destruction and conduct cleanup for customers. SWS Environmental Services (SWSES) has crews from Houston, Dallas, Fort Worth, San Antonio and Kilgore working with clients while there are devastating floods beginning to rise.
Flooded roads are once again creating issues for response and recovery teams to access certain areas recently impacted by flooding. Crews are on call throughout the state with 10 vacuum trucks on standby for the state agencies. In addition to working with local and state organizations, SWSES is also working with other public entities like universities to provide pumps and sand bags. Additional crews are on standby to be in the event a need arises to provide diesel fuel for generators and water for essential client personnel who are on flood recovery throughout the state.
"Getting the cities in Texas back up and running, after a tropical storm like Bill, is a high priority for SWS Environmental Services," explained Rod Norwood, Regional Manager in Fort Worth, Texas. "We live and work in the areas affected and will continually work with all customers who need our services as recovery efforts grow in demand."
SWSES has many years of experience working with private industry and public agencies such as the Federal Emergency Management Agency (FEMA) in responding to major flooding. One project along the Mississippi river, over a four-week operations period, peaked at approximately 72 million gallons per day being pumped. This amounted to approximately 2 billion gallons of water in total.
For more information on how SWSES can assist your company, please call us anytime of the day at 877-742-4215 or visit http://www.swsenvironmental.com
About SWSES:
SWSES is one of the largest, most diverse, and strategically positioned environmental services companies in the United States. Currently operating from 29 locations across Alabama, Florida, Georgia, Kentucky, Louisiana, North Carolina, Ohio, Tennessee, and Texas, our service centers are equipped and ready to respond 24 hours a day, 7 days a week. Whether it's an emergency spill response, industrial services need, hazardous or non-hazardous waste issue, or complex remediation project, contact us at the location nearest you. 24-Hour Emergency Response: 877.742.4215