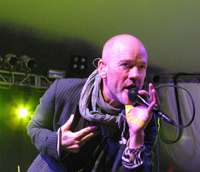 Live Music Capital of the World
Austin, TX (PRWEB) March 31, 2008 -
There are thousands of music festivals each year. Deciding on which one to attend can sometimes be a little overwhelming. ZeeGig.com has provided a list of five reasons why the South by Southwest Music Festival is the one to attend.
1. Free Food and Drinks (Alcohol) - A couple of the tents in Brush Square Park were offering free food and drinks. On Thursday of the music festival, the Japan Bash tent provided free sushi and beer. The offering was fairly impressive considering it was free. There was a selection of fish (Tuna, Salmon, Yellowtail, and a couple others) along with an assortment of rolls (some of which were vegetarian). The beer selection was limited to Kirin and Bud Light. There was also some free food at the Spain tent just next door. These are two examples of some of the free food and alcohol that was available to badge holders at the SXSW music festival...there were more.
2. Cool People - This wasn't one of those events that felt pretentious in any way (as if it's the "place to be seen"). Maybe it was the fact that SXSW takes place in the unique city of Austin, Texas. Anyone who makes the effort to attend South by Southwest clearly has a love for music and doesn't care about "the scene." This was obvious after meeting a few people and talking about live music in their home states.
3. Music Venues vs. Open Field - SXSW takes place at actual music venues in downtown Austin, Texas. This is different than 99% of the music festivals around the world because most of them take place on make shift stages in an open field. Austin has an official slogan, the "Live Music Capital of the World". A short walk down 6th St. and Red River St. will make it very clear why. The music venues are lined up one after another.
4. More than 1,000 bands - Choices...oh so many choices. South by Southwest offers just about every type of music. There were many international showcases that featured artists from Canada, Japan, Spain, Ireland, and the UK. One can easily spent a couple hours trying to figure out who they would want to see, but it is worth the effort to avoid being disappointed.
5. Great Music - Four solid days of live music will expose someone to a lot of new music. It's impossible to leave the music festival without discovering a few new bands to be excited about. Here are some highlights from the SXSW music festival.

Go to http://www.zeegig.com/sxsw for more concert reviews and pictures of the South by Southwest Music Festival.
Official website for the South by Southwest Music Festival: http://www.sxsw.com
About ZeeGig: ZeeGig is a live music resource and concert review website. Members can post reviews and pictures of the concerts they attend. ZeeGig also provides the ability for users to find music venues and music festivals based on geographic location and specific genres of music. All types of music genres are covered including: Alternative/Indie, Blues, Classical, Country, Folk, Jazz, Latin, Metal, Punk, R&B, Reggae and Rock.
###