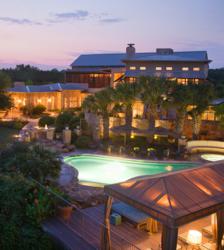 Austin, Texas (PRWEB) February 21, 2013
South by Southwest goers on a quest to soothe tired soles and revive healthy habits can have their last curtain call at Lake Austin Spa Resort before leaving town. With a refreshed spa menu for 2013 and as the only destination spa in America named to the Condé Nast Traveler Gold List Platinum Circle for 2013, the quick drive from downtown Austin to this famed hideaway has become an essential trek for pleasure seekers this spring. Whether it's for a quick detox treatment and sauna at the 25,000 square-foot LakeHouse Spa, or a full day of luxurious services in the outdoor Bamboo Room or an entire weekend of wellness, the resort's ever evolving spa menu has options for every person's busy schedule. Private car transportation can also be arranged for an additional fee.
A MOMENT:
Calming Detox Wrap - NEW in 2013
A full-body massage followed by a detoxifying, firming wrap. While the soothing cactus gel warms on the body, blood circulation increases, which improves the skin's elasticity—helping to firm and tighten. This treatment is great for nourishing the skin as it's packed with vitamins, minerals and calming aloe. An intensive foot scrub with a honey heel glaze is included for the ultimate in foot hydration. 80 minutes $205
or
Sports Soak and Massage - New in 2013
Soak in mineral salts in the 58-jet hydrotherapy tub to ease muscle soreness and aid detoxification before your specialized massage. Athletic massage using arnica oil incorporates rhythmic strokes along with medium pressure to stimulate muscles, aid in flexibility and flush metabolic waste. You'll
emerge feeling relaxed and refreshed. 70 minutes $205
A DAY:
Over the Top for Two
A spa package for two, and a very special day at the LakeHouse Spa. Guests are welcomed with relaxation time in the outdoor Bamboo Room with a private hot tub. Then each person will enjoy the Skin Quencher Aloe Body Wrap side by side in the outdoor treatment cabana, followed by lunch at the Aster Café. Followed by an 80-minute Ultimate Swedish Massage and a 25-minute Best Foot Forward Massage using essential oils, this package includes a spa gift for two and gratuities. $1165
A WEEKEND:
A three-night Refresher Package provides guests of the 40-room destination spa a healthy blend of activities, delicious cuisine and a selection of more than 100 spa treatments in the LakeHouse Spa. The package includes unlimited fitness classes, activities, discovery programs, casually elegant lakeside accommodations, a $350 spa allowance per person and three gourmet meals daily under the direction of the resort's new Executive Chef Stéphane Beaucamp.
Rates start at $2025 per person, double occupancy in signature accommodations.
For reservations: 1-800-847-5637
Lake Austin Spa Resort, 1705 South Quinlan Park Road, Austin, Texas 78732
http://www.lakeaustin.com and http://www.twitter.com/lakeaustinspa
ABOUT LAKE AUSTIN SPA RESORT
Nestled along the shores of scenic Lake Austin in the beautiful Texas Hill Country, Lake Austin Spa Resort offers guests the sanctuary of a world-class spa and the warmth of a best friend's lake house. Lake Austin Spa Resort offers all-inclusive vacation packages, which include accommodations in one of 40 charming lakeside guest rooms, three gourmet meals daily, indoor and outdoor fitness activities and classes, and a selection of spa and body treatments.
The resort has received numerous awards from prestigious national travel and spa magazines since its multi-million dollar renovation and expansion in 2004. Condé Nast Traveler, Travel + Leisure, US News & World Report, Fodor's, Allure, the Zagat Survey, Health, Garden Design, SpaFinder Wellness, and American Airlines' Celebrated Living magazine have honored Lake Austin Spa Resort as one of the best in the country and in the world.
For additional information and reservations, call 800-847-5637, or visit http://www.lakeaustin.com. Media on deadline can contact Darlene Fiske at 512-331-7755.
###