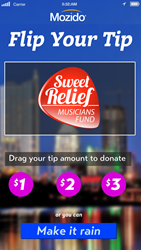 Giving back is among Mozido's most strongly held values.
Austin, TX (PRWEB) March 05, 2014
Austin-based mobile financial technology leader takes part in SXSW Hackathon, hosts 'Tip for a Cause' Happy Hours.
Mozido, a mobile financial services leader based in Austin, is heading to South by Southwest Interactive (SXSWi) to showcase two of its key services at events that will benefit nonprofits in Austin and beyond. Mozido's corporate culture and business model are grounded on social responsibility, as the company works to bring financial inclusion to unbanked and under-banked individuals throughout the world with its mobile platform for financial services, commerce, and payments.
"Giving back is among Mozido's most strongly held values," said David Luther, Chief Marketing Officer and Executive Vice President – Business Development at Mozido. "We look to contribute to the greater good not only through our products, but through opportunities like SXSW that allow us to use our services to help those in need."
On March 6th, SXSW's "Hackathon for Social Good" will use Mozido's mobile loyalty platform, from its recent acquisition of StickyStreet, to enable Hackathon participants to quickly build powerful loyalty programs for non-profit organizations such as the Electronic Frontier Foundation, The World Wide Web Consortium (W3C) and the Idelsohn Society for Musical Preservation.
In addition to joining SXSW's Hackathon, Mozido is the sponsor for two "Tips for a Cause" happy hours in the Beacon Lounge. Mozido will showcase its Person-to-Person (P2P) proximity payment mobile app that makes paying or tipping people nearby as easy as using cash. It will be used to tip the bartenders using mobile phones and iBeacon BLE technology. Mozido will not only pick up the tab for the drinks and tips made using its P2P app, but the company will match all tips with a donation to the Sweet Relief Musicians Fund, a nonprofit that provides financial assistance to career musicians struggling to make ends meet while facing illness, disability, or age-related problems.
SXSW's "Hackathon for Social Good" takes place Thursday, March 6, from 9:30 a.m. to 5:30 p.m. at Adaptive Path in Austin, Texas. Mozido's "Tips for a Cause" Happy Hours are Sunday, March 9 and Monday, March 10 at the Beacon Lounge in the Austin Convention Center from 3:00-5:00 and are open to all SXSW attendees.
"SXSW is well known for the great music, technology and minds involved, but most importantly, it provides new avenues for companies like Mozido to give back," said Luther. "We are thrilled to be using our technology to benefit these tremendous causes."
###
About Mozido
Mozido provides an integrated platform of cloud-based, white-label, mobile payment, shopping and marketing solutions, complemented by real-time, customer behavior analytics. Mozido enables companies in retail, financial services, consumer packaged goods and telecom to serve both banked and unbanked consumers, and mobilize a better future for all people. Our platform is highly interoperable and can work with virtually any wireless carrier or mobile device, including smartphones and feature phones. For more information, visit us at http://www.mozido.com. Follow us on Twitter: @MozidoGlobal.
Mozido is a registered trademark of Mozido, Inc.