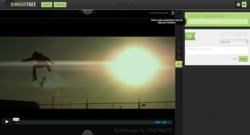 build an online curriculum from any resource
Ann Arbor, MI (PRWEB) February 28, 2013
HATCH, the official pitch contest of Startup Village at SXSW, has chosen Ginkgotree as one of their 12 finalists.
The small, 4 person team started building Ginkgotree just last July. Scott Hasbrouck, Founder and CEO, prefaced this by researching the course material market, pivoting through several different business models, and speaking with hundreds of individuals in higher education.
While Scott is responsible for leading development of their backend and overall product design and direction, his wife, Lida Hasbrouck, is their lead marketer and customer advocate. Two friends, Phil Selander and Andrew Colchagoff, are responsible for the front-end user experience and JavaScript engineering, respectively.
Together they've built a web app to help faculty build an online curriculum from any resource, complete with automated copyright clearance and digital content sourcing. It's a complete textbook replacement, so teachers and professors can take a list of links and page ranges from books and turn them into one unified course curriculum.
Instructors, instructional designers, and institutions already hacking together solutions to create custom syllabi and materials can sign-up free. No fees are paid until the curriculums are "published." Students of individual faculty sign-ups will pay just $25 per course plus any applicable copyright fees, which is starkly less than a $200 textbook and far more interactive than a flat coursepack. Institutions can also opt to cover student fees. All in all, Ginkgotree promises to improve student outcomes while reducing student costs.
To start with Ginkgotree, faculty name their first curriculum and hop right into selecting assets to add. While the majority of content from the big 3 textbook publishers is not yet available through Ginkgotree, they're working on strategic partnerships to provide access to this content. In the mean time, faculty can choose from any materials licensable through the Copyright Clearance Center, as well as literally any free educational materials. This content, often referred to as open educational resources (OER), includes Khan Academy videos and Wikipedia pages.
After a curriculum is complete, it's published (privately) and sharable via a unique access link, much like Dropbox. Students join, pay their fees, and start learning through their online portal. Students who need to access text content offline or prefer to read from physical media can download and print book content to read it later.
Ginkgotree beat out over 100 companies from around the world who also applied for the opportunity. Eligible companies could not have raised more than $2MM in investments and must either have launched their product since January 1, 2011 or be planning to launch by June 30, 2013.
The HATCH Competition, now in its second year, will give startups 4 minutes to present to panel of investor judges in front of a large, highly influential audience. From there, the finalists will have around 5 minutes to field probing questions from the judges.
Prior to the competition, finalists receive one-on-one coaching with mentors to help them prepare. Ginkgotree's coaching has just begun, under the mentorship of Serge Findling, Senior IT and Business Executive at Houston Technology Center. "We've already learned so much from Serge and the online conference sessions we've attended so far," says Lida Hasbrouck.
The panel will judge the startups on several criteria, including disruption, impact, problem, market, team, scalability, and revenue model. Prizes for top contestants include hosting services, investor meetings, media exposure, office space, consultations, and mentoring. Startups also benefit from the prestige, focused exposure to investors and industry leaders, exposure to the tech savvy SXSW audience, and photo and interview opportunities with the press.
If you're attending SXSW and have an Interactive, Gold, or Platinum badge, you can see all the presenters 9:30 am - 1:30 pm on Sunday, March 10th in the Hilton Austin Downtown in Austin, TX.
Get more information about Ginkgotree's curriculum tool or jump in and see how you can create custom curriculum. (Sign-up is required, but takes just minutes.)