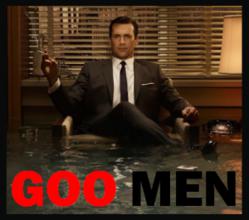 Our outfits alone should be enough to draw a crowd, but with the flashbulbs and robots going off
Austin, Texas (PRWEB) February 19, 2013
Who are the "GOO MEN" and what exactly do they do? FindMyCompany, a website marketing company headquartered in Austin, Texas, plans to answer those and other juicy questions about search engine optimization at this year's South by Southwest Trade Show, kicking off on March 10 and running through the 13th. Check the official "GOO MEN" @ SXSW event page for more info.
So far details are sparse, but FindMyCompany has revealed that their SXSW Interactive booth will be 1950's – 60's themed featuring old-timey photographers. "I don't think you'll have any trouble spotting us in our costumes inspired by a popular TV show about a Madison Avenue Advertising Firm, complete with bee hives and cocktails," says Paul Sontag, Account Executive, with a grin. Sontag added, "Our outfits alone should be enough to draw a crowd, but with the flashbulbs and robots going off— Sorry, I've said too much." Robots in the 60's?
One can only assume that FindMyCompany, hosts of the popular "On Tap for Google" seminar series at the Alamo Drafthouse, will also be offering insight into the latest search engine trends and giving businesses tips on how to boost their online visibility.
"We love doing the seminars, but South by Southwest will be an entirely different atmosphere," says Drew Lyon, SEM Analyst with FMC. He goes on, "We're just as excited about attending and seeing what everyone else is doing as we are about being a featured company."
When pressed for more information, Rachael Star, Client Integration Manager and Social Analyst with FMC, let slip that they will be doing some "really cool social giveaways." Maybe it will be another iPad or a martini? No comment, but whatever the prize, you can expect the contest to be posted on the FindMyCompany Facebook page as the event draws nearer, according to Star. Stay posted.
— — —
South by Southwest is an annual technology, music, and film festival held in downtown Austin, Texas. The Interactive portion of SXSW is informally known as the "hip tech conference," making it the ideal place to launch and discuss new technologies. Austin SEM provider FindMyCompany is excited to share their industry expertise at this year's SXSW Interactive Trade Show.