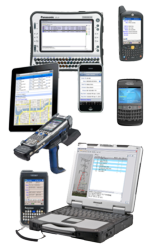 No other platform provider can provide this combination of value-add in today's North American MRM sector.
Hoffman Estates, IL (Vocus/PRWEB) February 08, 2011
Mobile enterprise application provider Syclo announced today that it has been honored with the 2010 North American Customer Value Enhancement of the Year Award in Mobile Resource Management (MRM) by Frost & Sullivan, a global leader in business market research and consulting. The research firm based its decision on a disciplined third-party research analysis, evaluating Syclo's best-in-class ability to manage growth, innovation and leadership.
Through its TEAM Research methodology, which contends that successful growth is founded on a 360-degree understanding of core technical, economic, financial and market analyses, Frost & Sullivan attributes Syclo's excellence to a strong partnership with major corporate software vendors SAP and IBM, its integrated, enterprise-scale mobility platform solution, suite of composite mobile applications, and emphasis on solution flexibility. According to Frost & Sullivan's report, "No other platform provider can provide this combination of value-add in today's North American MRM sector."
A key factor in Frost & Sullivan's decision was Syclo's partnerships with enterprise system makers SAP and IBM for field service and enterprise asset management (EAM) solutions. These agreements are industry benchmarks on how to enhance joint customer value through tight systems integration, enterprise-grade solution offerings and high-quality support, according to its analysis. "Syclo's relationships with SAP and IBM appear to really be hitting on all cylinders," states Jeanine Sterling, Senior Industry Analyst, Frost & Sullivan. "Major corporate software vendors have figured out that there's money to be made in mobilizing their products. And as a key mobility partner, Syclo can provide SAP and IBM customers with the expertise and proven solutions they're looking for."
Also mentioned was Syclo's update to its Agentry mobile enterprise application platform, Agentry Analytics, which the research firm described as "a game-changing diagnostics and analysis package"—as well as the platform's unmatched flexibility in supporting practically any network situation, mobile device, external app or peripheral (image capture, GPS, RFID, etc.), and a range of configuration and implementation options.
"The handset-based MRM sector is perched just on the edge of mass adoption in the U.S., but needs to work at neutralizing lingering customer concerns around expense, security and day-to-day administration," adds Sterling. "Syclo crystallizes the value of MRM solutions by addressing these worries head-on."
"Syclo is honored by this recognition from Frost & Sullivan, and we value the prestige that comes with their North American Customer Value Enhancement of the Year Award," said Rich Padula, President and CEO of Syclo. "Above all, we're dedicated to an ongoing investment in innovation to make our mobile enterprise applications and platform technology not just the best technology on the market, but the best technology possible. I'm proud and excited to have this dedication recognized in 2010 by one of the global leaders in business research."
For a copy of the report and to learn more about why Syclo was selected for Frost & Sullivan's North American Customer Value Enhancement of the Year Award for Mobile Resource Management, please visit http://www.syclo.com/frost.
About Frost & Sullivan
Frost & Sullivan, the Growth Partnership Company, enables clients to accelerate growth and achieve best in class positions in growth, innovation and leadership. The company's Growth Partnership Service provides the CEO and the CEO's Growth Team with disciplined research and best practice models to drive the generation, evaluation and implementation of powerful growth strategies. Frost & Sullivan leverages almost 50 years of experience in partnering with Global 1000 companies, emerging businesses and the investment community from 31 offices on six continents. To join our Growth Partnership, please visit http://www.frost.com.
About Syclo
Since 1995, Syclo has worked with over 750 organizations to create, deploy and manage a variety of mobile applications. Syclo's software extends corporate systems and databases to a wide range of mobile devices and user types, helping companies cut costs, increase productivity and make better decisions across the board. Together, Syclo's Agentry platform and prebuilt SMART Mobile Suite applications present a flexible, reliable and cost-effective framework for enabling the mobile enterprise. For more information, visit http://www.syclo.com or email info(at)syclo(dot)com.
Syclo and Agentry are trademarks of Syclo LLC. All other trademarks are the property of their respective holders.
Copyright© 2011 Syclo LLC. All rights reserved. 07102901-907
For product information contact Angela Nikolaros
+1 847.713.9110
sales(at)syclo(dot)com
Syclo EMEA office contact David Hartwell
+44 1372 371031
emea(at)syclo(dot)com
Media inquires contact Mark Curatolo
+1 847.713.9101
pr(at)syclo(dot)com
# # #