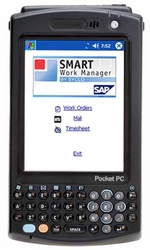 Syclo, in cooperation with SAP, provides a low-risk choice to facilitate the exchange of data between our remote workforce and our enterprise implementation of SAP ERP.
Hoffman Estates, IL (PRWEB) October 14, 2009
Syclo, a market leader in mobile enterprise platforms and applications, today announced that RheinEnergie, a German utility serving 2.5 million people in the Rhine region, has selected SMART Work Manager for use with the SAP® ERP application, a mobile application from Syclo resulting from its co-innovation relationship with SAP AG (NYSE: SAP). The solution was chosen to automate technicians' daily meter and preventative maintenance work order processes and will be implemented by ENERGY4U, a German-based consulting and implementation firm.
After blueprinting the eight core processes they wanted to mobilize, RheinEnergie consulted ENERGY4U GmbH, who helped them understand SAP's expanding mobile vision for the future.
"When ENERGY4U explained SAP was now collaborating with Syclo on the co-innovation relationship with SAP co-innovation of mobile solutions, we were very intrigued, but after learning the SMART Work Manager application worked on both laptops and PDAs, synchronized to SAP ERP without issue, came with a flexible mobile architecture, and required little effort to support it, we were sold," said Mrs. Troilo, RheinEnergie's Project Manager. "Syclo, in cooperation with SAP, provides a low-risk choice to facilitate the exchange of data between our remote workforce and our enterprise implementation of SAP ERP."
In March, Syclo announced an agreement centered around co-innovation with SAP to deliver mobile applications that enable maintenance and service technicians access to SAP Business Suite software from a broad range of devices regardless of connectivity.
"We are pleased that the co-innovated solutions resulting from our agreement with Syclo have been well-received by customers, including RheinEnergie," said Bernd Keller, head of Utility Solution Management, SAP AG. "With SMART Work Manager for use with SAP ERP, ENERGY4U will bring incremental value to RheinEnergie's daily operations. SMART Work Manager offers a seamless end-user interface on a variety of devices, regardless of connectivity, so remote technicians can access and capture meter, inventory and work-order information in SAP ERP and the SAP for Utilities solutions portfolio."
ENERGY4U specializes in providing consulting and implementation services related to SAP solutions for utility companies in the deregulated energy market. "Our strong partnerships with both Syclo and SAP helped us better serve RheinEnergie," said Florian Ganz, head of ENERGY4U's Mobile Department. "We recognized the current direction of SAP's mobility program to help RheinEnergie meet their mobility needs both now and in the future."
To see demonstrations and learn more about Syclo's SMART Mobile Suite for use with SAP solutions, please visit Syclo at the 7th International SAP Utilities Conference 2009 in pod number 2.40 in Munich, Germany, Oct. 14-16, as well as at SAP TechEd 2009 in booth 515 in Phoenix, Ariz., Oct. 13-16. At these conferences, staff can also direct attendees to the sessions where Syclo's mobile solutions will be discussed.
For more information, visit http://sap.syclo.com.
About Syclo
Since 1995, Syclo has helped over 750 companies streamline workflow and improve productivity with its innovative mobile solutions and first-in-class execution expertise. Syclo delivers quick ROI by offering rapidly deployable mobile software applications built on a 100% configurable mobile Agentry™ platform. Syclo's SMART Mobile Suite includes prepackaged and preintegrated applications for the fastest path to extend enterprise systems to field workforces. Unlike other mobile solutions, Syclo simplifies enterprise wide deployments with a leading strategic architecture for one or more mobile applications, letting you concentrate on business processes. Syclo also sets the standard for adapting to rapid change. For more information, visit http://www.syclo.com, or email info (at) syclo (dot) com.
About ENERGY4U
At ENERGY4U we offer comprehensive professional services for our customers who mainly operate their business in the Utilities industry sector. Our motivation is to permanently think one step ahead in order to provide the best solution for your business and your success. Fast response times and a highly qualified know-how synergize our capital with your profit. The key to success is a clear vision statement combined with a process-driven implementation approach. Following this strategy, SAP Germany invited us to join its Special Expertise Program for SAP for Utilities in the German market. Since October 1, 2009 Energy4U, now a Siemens Company, is able to provide further solutions along the whole value-added chain and a full services portfolio for utilities. The partnership means both companies take up a leading position on the German market for IT services, with plans for further growth in other parts of Europe. For further information visit: http://www.energy4u.org or email: info (at) energy4u (dot) org
About RheinEnergie
RheinEnergie AG is the regional provider for electricity, natural gas, district heating and drinking water for the Rhine River area around the City of Cologne with a tradition of more than 135 years. RheinEnergie AG holds multiple subsidiaries of smaller utilities companies in the region. RheinEnergie is a public company with 80 percent of the shares in possession of the City of Cologne and 20 percent being held by the RWE group. Annual turnover 2008 amounts to about 4 billion Euro.
SAP and all SAP logos are trademarks or registered trademarks of SAP AG in Germany and in several other countries.
All other product and service names mentioned are the trademarks of their respective companies.
SAP Forward-looking Statement
Any statements contained in this document that are not historical facts are forward-looking statements as defined in the U.S. Private Securities Litigation Reform Act of 1995. Words such as "anticipate," "believe," "estimate," "expect," "forecast," "intend," "may," "plan," "project," "predict," "should" and "will" and similar expressions as they relate to SAP are intended to identify such forward-looking statements. SAP undertakes no obligation to publicly update or revise any forward-looking statements. All forward-looking statements are subject to various risks and uncertainties that could cause actual results to differ materially from expectations The factors that could affect SAP's future financial results are discussed more fully in SAP's filings with the U.S. Securities and Exchange Commission ("SEC"), including SAP's most recent Annual Report on Form 20-F filed with the SEC. Readers are cautioned not to place undue reliance on these forward-looking statements, which speak only as of their dates.
###