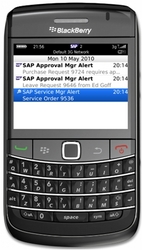 Our partnership with Syclo is one further proof point of SAP's continued enterprise mobility focus to deliver instant value to people everywhere, said Kevin Nix, senior vice president, mobility, SAP AG.
Orlando, Fla. (PRWEB) May 17, 2010
Syclo a leading provider of mobile enterprise software, announced today the release of two new mobile applications in support of SAP® solutions for use with BlackBerry® smartphones. Unveiled at the SAPPHIRE® NOW conference, the new Syclo SMART Service Manager, and SMART Approvals Manager solutions help companies extend their use of the SAP® ERP and SAP Customer Relationship Management (SAP CRM) applications to BlackBerry smartphones. The new applications take advantage of Syclo's close co-innovation partnership with SAP AG, membership in the BlackBerry® Alliance Program, and years of experience in creating flexible, high-performance, scalable and resilient mobile applications for use with SAP solutions.
SMART Service Manager for use with SAP CRM helps companies increase the efficiency of their field service operations. The solution provides end-to-end paperless workflow capabilities that include dispatching service orders right to technicians' BlackBerry smartphones, accessing real-time information from SAP CRM, and updating these systems in real time from an intuitive mobile application.
SMART Approvals Manager is a routing and approvals solution that lets users view and act on notifications and alerts from SAP ERP and SAP CRM right from their BlackBerry smartphone's inbox. The mobile
SMART Approvals Manager application simplifies common processes like vacation, travel and expense report approvals, sign-offs, confirmations, purchase order approvals and other activities by incorporating them into the regular message flows on a BlackBerry smartphone, enabling users to respond quickly and keep processes flowing.
The Syclo solutions deliver tight, high-performance integration with SAP solutions while providing a framework for modeling the workflow and behavior of the mobile application.
Syclo's mobile applications are built as "Super Apps" for BlackBerry smartphones to deliver the intuitive and compelling user experience that BlackBerry smartphone users expect. The BlackBerry application development toolset enables the delivery of a compelling user experience by leveraging the unique capabilities of the BlackBerry platform, including real-time push technology, highly contextualized controls and tight integration of Syclo's software with core BlackBerry smartphone applications.
"Syclo's ability to bring to market two innovative mobile solutions in a short period of time is a great example of the effectiveness of our strategic partnerships," said Rich Padula, Syclo CEO. "With SMART Service Manager and SMART Approvals Manager, we've brought together Syclo's deep mobility expertise, SAP's business process prowess, and RIM's stellar BlackBerry smartphones and platform to deliver a premium user experience. More and more, we find that such end-to-end collaboration is imperative to delivering the high-performance, enterprise-grade mobile tools that our customers are asking for today."
"Syclo has proven to be a strong SAP partner, and our efforts to define, develop, test, go-to-market and support co-innovated mobile solutions delivers the kinds of solutions our customers have come to expect," said Kevin Nix, senior vice president, mobility, SAP AG. "Our customers are benefiting from highly configurable, pre-built and pre-integrated mobile solutions that offer flexibility and shorter implementation cycles. Our partnership with Syclo is one further proof point of SAP's continued enterprise mobility focus to deliver instant value to people everywhere."
The Syclo applications are scheduled to be generally available in the second quarter of 2010.
Today's announcement was made at SAPPHIRE NOW, being held May 16-19 in Orlando, where Syclo is exhibiting in booth 2814 and Research In Motion (RIM) is exhibiting in booth 201. Attendees are invited to stop by both booths for more information.
To learn more, or to view a short demo video, visit http://www.syclo.com/blackberry .
About Syclo
Syclo is an established leader in developing mobile solutions that streamline workflow, maximize productivity and drive more value from enterprise systems. Building on its flagship development platform Agentry, Syclo offers fully configurable, rapidly deployed mobile applications that run on a variety of devices and support real-time wireless and offline computing. Syclo's mobile solutions include pre-packaged and pre-integrated applications that mobilize CRM, ERP and EAM systems, among others, to improve communications and data capture. Syclo and its partners utilize Agentry to design, develop and integrate customized solutions on time and within budget. Over 750 organizations across industries in 39 countries have deployed Syclo's mobile software. For more information, visit http://www.syclo.com or email [email protected]
Syclo and Agentry are trademarks of Syclo LLC. SAP, SAPPHIRE and all SAP logos are trademarks or registered trademarks of SAP AG in Germany and in several other countries. All other trademarks are the property of their respective holders. The BlackBerry and RIM families of related marks, images and symbols are the exclusive properties and trademarks of Research In Motion Limited.
Copyright © 2010 Syclo LLC. All rights reserved. 07102901-907
SAP Forward-looking Statement
Any statements contained in this document that are not historical facts are forward-looking statements as defined in the U.S. Private Securities Litigation Reform Act of 1995. Words such as "anticipate," "believe," "estimate," "expect," "forecast," "intend," "may," "plan," "project," "predict," "should" and "will" and similar expressions as they relate to SAP are intended to identify such forward-looking statements. SAP undertakes no obligation to publicly update or revise any forward-looking statements. All forward-looking statements are subject to various risks and uncertainties that could cause actual results to differ materially from expectations The factors that could affect SAP's future financial results are discussed more fully in SAP's filings with the U.S. Securities and Exchange Commission ("SEC"), including SAP's most recent Annual Report on Form 20-F filed with the SEC. Readers are cautioned not to place undue reliance on these forward-looking statements, which speak only as of their dates.
For media, contact Mark Curatolo
pr(at)syclo(dot)com
For product information contact Angela Lowell
+1 847.713.9110
sales(at)syclo(dot)com
Syclo EMEA office contact David Hartwell
+44 1372 371031
emea(at)syclo(dot)com
# # #