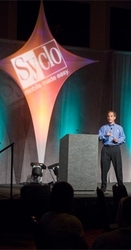 attendees will be armed with the latest mobile research and best practices – and be ready to implement them when they get back to the office.
Hoffman Estates, IL (PRWEB) February 26, 2010
Syclo, a market leader in mobile enterprise applications, announced today that its sixth-annual Syclo Mobile Conference, "Learn. Connect. Explore," is headed to downtown Chicago this year. At this year's conference, which will be held over 2½ days at Chicago's Swissotel from Wednesday, July 14 to Friday, July 16, attendees will be armed with the latest mobile research and best practices – and be ready to implement them when they get back to the office.
"Last year's first-ever virtual conference was a great success, but there's no better way to talk than face to face – and there's no better place to do it than here in Chicago," said Joe Granda, EVP Marketing of Syclo. "There have been so many exciting developments from Syclo and the mobile industry at large in the last 12 months. SMC 2010 will give our customers and partners the ultimate opportunity to get trained on the newest mobile technology and applications, connect with colleagues and industry experts, and explore new ways to gain value from their mobile projects."
Syclo Mobile Conference 2010 is designed to provide both business managers and IT professionals with the tools they need to move their mobile projects forward. The conference will be packed with multiple networking opportunities, customer presentations to help attendees leverage other companies' experience, training sessions on the basics of Syclo development & management tools, an interactive Hands-on Lab where attendees can test-drive the latest innovations in mobile platform technology, and one-on-one "Ask the Experts" meetings to assist Syclo users with their deployment questions.
Additionally, SMC 2010 will feature sponsor demonstrations on the latest in mobile device, peripheral and network innovation from Syclo's leading global partners. Previous sponsors included Motorola, Intermec, Panasonic and AT&T.
Conference registration is now open on the SMC website, http://smc.syclo.com, a detailed resource for those interested in learning more about this year's show. Current Syclo customers are encouraged to present their success story at the conference – if selected, the registration fee is waived.
For a detailed agenda, you can view it at http://smc.syclo.com/agenda/
About Syclo
Since 1995, Syclo has helped over 750 companies streamline workflow and improve productivity with its innovative mobile solutions and first-in-class execution expertise. Syclo delivers quick ROI by offering rapidly deployable mobile software applications built on a 100% configurable mobile Agentry™ platform. Syclo's SMART Mobile Suite includes prepackaged and pre-integrated applications for the fastest path to extend enterprise systems to field workforces. Unlike other mobile solutions, Syclo simplifies enterprise wide deployments with a leading strategic architecture for one or more mobile applications, letting you concentrate on business processes. Syclo also sets the standard for adapting to rapid change. For more information, visit http://www.syclo.com, or email info@syclo.com.
Syclo and Agentry are trademarks of Syclo LLC. All other trademarks are property of their respective holders.
Copyright © 2010 Syclo LLC. All rights reserved.
For more information, contact pr (at) syclo (dot) com.
###