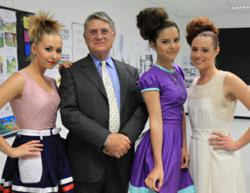 "We prepare students for working in a real agency environment, not just giving them the manual skills they need"
Karl von Busse
Sydney, New South Whales (PRWEB) January 25, 2012
Karl von Busse opened one of the first private design colleges in Sydney back in 1978 after seeing how ill prepared graduates were for working at a design agency. The college focused on personalised training where students are prepared for work in a real agency environment, as well as the technical skills they need.
Since that time the Karl von Busse Institute of Design was opened in Ulladulla on the South Coast on New South Whales. Courses are offered in Graphic Design for students interested in web development, advertising and editorial work. Fashion Design is available for students interested starting their own fashion label, pattern making or becoming a fashion stylist. Last but not least, Interior Design courses for students striving for careers in set-design, interior decorating or design consultancy business.
After the success of the South Coast campus and due to the vast interest, the Institute is ready to launch the new Sydney campus in 2012. If you are interested in starting a path towards a creative career, or already in the industry and wish to further develop your skills and knowledge, our programs will provide you with the hands on training and skills you need to reach your fullest potential as a designer. Our teachers will also work closely with you to develop your portfolio and interview skills to ensure you gain employment upon completion of the course.
As a first in Australia, the Institute offers students the opportunity to select an elective in International Design, which takes the students abroad to Europe to further investigate the history of design and culture.
What makes the Institute different?

Diploma and programs for Graphic, Fashion and Interior Design
Advanced Diploma programs in Graphic and Fashion Design
Nationally Recognised Training
An elective in International Design including study tour to Europe
Year 10, 11 and 12, mature age and international students can apply
HSC results are not used as selection criteria
Accredited Registered Training Organisation (RTO) with CRICOS and VET-FEE-HELP approved
Short courses and workshops – get a taste of what it is like to study with us Scholarship competitions
A new campus with limited enrolments to ensure maximum individual development
All programs include professional development with deadlines, work experience
and preparation for employment To find out more, check out our website http://www.karlvonbusse.com/designers and download our attached Course Guide.
Join us on Facebook http://www.facebook.com/karlvbusse
Follow us on Twitter http://www.twitter.com/karlvbusse
Email us admin(at)karlvonbusse(dot)com or call us on (02) 9261 1191
###