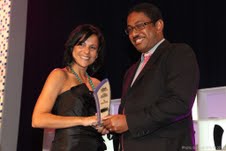 This award is recognition of our commitment to creating flawless events
Sydney, Australia (PRWEB) June 23, 2011
The Meetings and Events Association (MEA) 2010 Awards Ceremony held recently saw Leanne Constantino's The Forum Group named the Best Event Management Organisation. In the fiercely competitive world of event management, to be formally recognized by a key industry body in this way is acknowledgement of the company's commitment to quality.
Small Team, Big Results
The Forum Group comprises a dedicated and tightly-knit group of six, and is testament to the fact that a well run small businesses can make a real impact. This is particularly the case in challenging economic times, when The Forum Group's attention to detail has seen it make inroads into the corporate events market.
"This award is recognition of our commitment to creating flawless events" said Ms Constantino at the Awards Ceremony. "It is because we are a small team that we are able to take our clients' vision and bring it to life - whether it is a multi-state roadshow, a breakfast seminar, or a conference for hundreds."
Sydney Event Management
For decades Australia has been the country of choice for major corporate events, boasting a great climate and a high level of safety by international standards. In establishing their reputation as a high level Sydney event management specialist, The Forum Group, acknowledges this, and the team has made it their mission to ensure each event they create continues to exceed the expectations of their clients.
"Winning this award is humbling indeed, and it inspires our team to continue to deliver the personalized service and attention to detail that, I believe, made it possible." said Ms Constantino.
The Forum Group Awards
The most recent award reinforces The Forum Group's past recognition in the Event Industry, including:

State Finalist, Meeting Management Company (less than 8 employees) 2009
National Winner, Meeting Management Company (less than 8 employees) 2008
National Winner, Meeting Management Company (less than 8 employees) 2007
National Winner, Meeting Management Company (more than 8 employees) 2005
BT Publishing e-awards, Winner, Sporting Event of the Year, 2009
BT Publishing e-awards 2007, Runner Up Awards Night of the Year
Short listed for the MYOB Business Awards at the 2005 Telstra Small Business Awards
Finalist, NSW Tourism Awards for Business Excellence, 2002, Tourism New South Wales
The Forum Group event agency can be found http://www.forumgroupevents.com.au
About The Forum Group
The Forum Group is a Sydney event management company facilitating all areas of event management for corporate events, roadshows, conferences, meetings, exhibitions, product launches Australia-wide and internationally. The company started in 1996 and Leanne Constantino took over its management in 2007.
The Forum Group's high-profile clients include Gloria Jean's Coffees and AVCAL, an Australian peak body for the Private Equity & Venture Capital Industry.
About Leanne Constantino
Leanne Constantino been involved in the event management industry for over 15 years now.  During this time she has provided counsel to private industry, association, government and corporate global organizations. She has had the privilege and opportunity to work in a number of great event management roles including:
In-house Event Manager for a major Australian financial association
Event Manager within the Marketing team of one of Australia's most successful global franchise organizations.
About MEA Awards
The MEA Awards recognize excellent business practice in the Meetings & Events Industry. They encourage industry professionals to excel in the achievement of their business and personal goals, and reward those who achieve outstanding results.
Winners enjoy considerable profile within the meetings industry and with the general buying public.
In all but Individual Awards, members self-nominate for an Award by addressing a range of criteria that are relevant to the particular category or categories they are entering. The submissions are then judged by a panel of industry and independent judges.
Candidates for Individual Awards are nominated by a third party such as an employer, client, supplier or colleague who is responsible for completing the written application. Short-listed candidates are interviewed by telephone to determine the category winner.
###