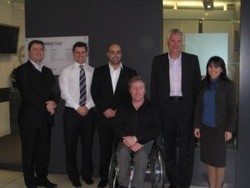 "We are extremely honored to be able to have even a small role in the advancement of the mission of SCIA.
(PRWEB) July 29, 2010
Econ Financial Services, a financial advisory firm offering services that range from mortgage brokering to retirement planning advice, is furthering its level of commitment to the community by supporting Spinal Cord Injuries Australia (SCIA). Econ has pledged a portion of the company's revenue from service fees to aid in the mission of SCIA. As part of the company's pledge to SCIA, Econ is also sponsoring a participant in the upcoming 11km Sutherland2Surf Fun Run/Walk; wheelchair-bound Shannon Bates, a Peer Support Officer with SCIA, will be competing in the race with the company's backing.
A representative from Econ reported: "We are extremely honored to be able to have even a small role in the advancement of the mission of SCIA. We believe very strongly in the work that they are doing, and we're also thrilled to be able to lend out support to Shannon Bates; he's a remarkable individual with a tremendous spirit." The representative also pointed out the common goal that Econ shares with SCIA: "Our missions really meet when it comes down to the human factor; one of the services we provide is retirement planning advice, which involves taking into consideration the "what ifs" in life. We focus on covering various scenarios that could affect the health and financial well-being of our clients."
This year's annual Brooks-Caltex Sutherland2Surf Fun Run/Walk takes place in Sydney on Sunday July 25th. Participants in the race will compete on a course that begins at the Sutherland Entertainment Centre and ends at Wanda Beach.
About Econ Financial Services:
Econ offers a full suite of business and personal financial services. The company specialises in insurance cover, loans (including home loans and investments), wealth creation strategies and providing retirement planning advice for the golden years. The company works with a client through every stage of their life to help to secure their financial health.
# # #