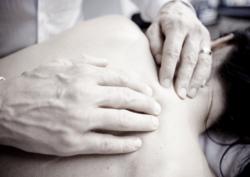 This dedicated team is leading the charge of education and treatment of office workers, so as to decrease the alarming number of people experiencing back, neck and shoulder pain.
Sydney, New South Wales (PRWEB) November 12, 2012
Located in the midst of Sydney's bustling corporate district, Sydney Osteopathic Medicine have treated thousands of clients who have fallen victim to their office environment and suffer from a range of back, neck and shoulder ailments. Their years of hands-on experience has led them to strongly declare their support for the results of a recent University of Sydney study which clearly show that ergonomic workstations and good posture are almost completely negated by long hours of computer use.
Published in 'WORK: a Journal of Prevention, Assessment and Rehabilitation', the survey of nearly 1,000 government workers found that out of those who spent more than 8 hours a day working at a computer, 85 per cent experienced neck pain, 75 per cent reported shoulder pain and 70 per cent suffered from lower back pain.
"What this study shows is that while workstation design has improved significantly, and the awareness of desk posture has grown substantially, there is still an epidemic of pain and suffering amongst office workers," reveals Peter Green, Osteopath of over 20 years and Principal of Sydney Osteopathic Medicine.
"While both of these elements are extremely important, no matter how good your chair is, you are at risk of back, shoulder and neck conditions when you spend long hours each day at your desk."
The large amount of time that so many employees spend deskbound is the basis of a myriad of painful conditions that the highly skilled osteopaths of this Sydney CBD practice treat on a daily basis.
As fellow practice Principal and highly skilled Osteopath, Clifford Avery explains, "When treating clients for office-induced pain, we strongly recommend that they fidget and change position at regular intervals. This can be achieved by putting a subtle alert on their computer that after 20 minutes to remind them to perhaps walk around their desk, get a glass of water or go to the toilet."
"What we also tell our clients is to oppose their habits. For instance, if they've been leaning forward, get up and arch back, then get on with their next movement. It's all about getting up, moving and opposing the postural habit to teach and rewire the brain."
Over the last 5 years since the Global Financial Crisis, Sydney Osteopathic Medicine have observed a noticeable change in the symptoms and conditions clients are presenting with, with much higher incidence of chronic and acute neck pain, jaw clenching, headaches and migraines.
Due to this trend, this dedicated team is leading the charge of education and treatment of office workers, so as to decrease the alarming number of people experiencing back, neck and shoulder pain.
"As an osteopath, we are essentially a body engineer. We look at each client's body to assess its efficiency and discover its volatilities, diagnose areas that aren't working well enough and begin to treat those. Perhaps by improving mobility in areas that are rigid or softening areas that have become particularly tense," exclaims Mr Avery.
"From our perspective, our aim is to make the uneconomical bodies more economical, so our office bound clients can sit at their desk for hours each day without being debilitated by ongoing pain."
To find out more about how Sydney Osteopathic Medicine effectively treat a range of conditions including neck, shoulder and back pain, visit http://sydneyosteopathicmedicine.com.au
About Sydney Osteopathic Medicine
The group of highly skilled osteopaths at Sydney Osteopathic Medicine are dedicated to providing their clients with the best possible health care in the Sydney CBD, as they understand it's about much more than merely managing symptoms and relieving pain.
These experienced health care professionals thoroughly diagnose, treat, educate and manage each patient's health from injury and pain through to recovery, focusing on why the problem developed in the first place so as to manage the true cause of the condition.