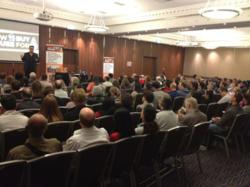 I will be sharing so many new and creative ways for people to become involved in buying and selling real estate, without involving banks
(PRWEB) February 06, 2013
Following the success of his real estate book 'How To Buy A House For A Dollar' in 2012, Australian property investment strategist, Rick Otton, is conducting a series of free one day seminars throughout February.
The first event, which is open to the public, takes place on February 10 and, Mr Otton says, is almost at capacity.
"Even though I am staging these real estate investment seminars at no cost to participants, it is vital that those wanting to attend register beforehand - if only for logistical reasons," said Mr Otton.
"I will be sharing so many new and creative ways for people to become involved in buying and selling real estate, without involving banks," he continued. "And standing-room-only isn't the way I like to run these seminars. People need to be seated, to be able to take notes."
Mr Otton believes the one-day seminar will be of particular interest to those who have been unable to secure bank financing, especially those with a poor credit history, inadequate savings for a deposit, or the self-employed who have difficulty proving income continuity.
The Australian real estate investment seminars are part of Mr Otton's personal mission to transform the way property is transacted, and to show that obtaining a bank loan is not the only way to achieve a home ownership dream.
Otton believes that people need to break free of the belief that the only way to capital growth is by following old and outdated models.
"My purpose has grown from creating time and financial freedom for my wife and myself, to being able to help as many people as possible see things differently and create their own freedom," said Mr Otton.
The first of Rick Otton's property investment seminars is being held in Sydney on February 10, with subsequent dates in Melbourne, Brisbane and Perth. Registrations can be made at http://www.howtobuyahouseforadollar.com
About Rick Otton
Rick Otton has spent decades making money by snapping up inexpensive real estate and putting it to work building wealth. Now, he's teaching other Aussies how to do the same. He is the founder and CEO of We Buy Houses, which operates in the U.S., U.K., Australia and New Zealand putting his strategies to work every day.
Otton got his start in alternative real estate investment in 1991 and within a year acquired 76 properties. In years after, he made a fortune using his low-risk, high-reward strategies to inexpensively acquire real estate.
Now, Otton wants to share the wealth by sharing the wisdom, teaching us how to buy and sell real estate without cutting banks and other middlemen in on the deal.
Otton has been featured in a variety of television programs and magazines, including Today Tonight, A Current Affair, Australian Property Investor and more.
More information about the series of open-to-the-public Australian property investment seminars is available at HowToBuyAHouseForADollar.com